I have had a deep passion for Masala Dosas ever since as a kid I ate from the Airlines Hotel drive in restaurant during the early 70's in Bengaluru.
You heard it right. Drive-in restaurant.
Sundays was when Dad drove us into Airlines Hotel after enjoying the movies at Lido, Rex or Plaza Theatres. Sitting in a car, where the waiter clips the steel tray onto the glass window, that served as a table was a trip in itself. And then and chomping on Masala Dosas was how this steamy, ghee flavoured relationship with 'masala' potatoes rolled up in crisp, golden brown batter all started.
It was simply love at first bite. I was hooked.
The Masalas Dosas at Airlines Hotel were triangular and so was the affair. Like a three pronged trident. Potatoes cooked to yellow perfection, the golden brown dosa and the classic green coconut chutney with crushed green chillies tempered with mustard and dry red chillies. Three distinct entities coming together to explode on your tongue. Nirvana for a school kid. I always wondered why I can't ask for extra masala which I desperately wanted and they don't serve or encourage. Or else I had to order for 2 Masala Dosas to scoop the masala out of the second to really enjoy the first one. And sambar in any form was not happening with Masala Dosas. At least for me. Sambar is a food institution by itself. But never with Masala Dosa. It was only the chutneys that matched the flavours of a nicely made Masala Dosa. Even podi chutney with oil. Sambar was a total mismatch. Gimme a Masala Dosa anytime of the day or night, I'm happy. It was a strange, steady and purposeful relationship built over many years and eating hundreds of Masala Dosas.
And surprisingly no home kitchen anywhere in Udipi, Bangalore, Mysore, Mumbai or Chennai makes a Masala Dosa. They were exclusive restaurant fare for sure.
Created and branded by them. If you badly wanted to tuck into a Masala Dosa, you had to hit a restaurant. Period.
'Let's go South' when said in Bangalore today, still means driving around the lovely, planned out and laid back Jayanagar. Back in the days Jayanagar stretched uptil the South End Circle, the Southern tip of Bangalore. Where cool residential areas with homes (I wouldn't, call them houses) with people in them and home gardens in their compounds. And one huge block of commercial space for shopping and entertainment. Bangalore then was a city of circles before the flyovers laid them to rest forever. Now the South End Circle and the majestic Ashoka Pillar (built in 10 days) at both ends of Jayanagar remain as noted traffic circles today.But the biggest curse of Bangalore till a couple of weeks ago, its traffic, just seems to have dissappeard to wherever it came from and the ride through Jayanagar roads felt like the 1970's.
Few cars and two wheelers drifted with BMTC buses almost empty. It felt like a good day to have breakfast in a road side Bangalore restaurant or Darshini café. You just can't go wrong for breakfast in Jayanagar. And my taste buds and tummy were craving for a good masala dosa and the rest of the spread of a Bangalore vegetarian breakfast.
I already had visions of dosas flipping, freshly fried vadas bubbling in oil and that awesome smell of filter coffee drifting around. Like they say 'The appetite you get in a restaurant, you will never get in a home.' Especially the smells and the buzz of people gathering to eat.
'Taaza Thindi' was were my friend took me to in Jayanagar. After 5 years of opening their doors to the folks of Jayanagar, they have not lost out on their legacy of providing quality all day South Indian breakfast in a totally hygienic self- service environment. 'Fast Food' just got translated. Taaza Thindi somehow sounded better.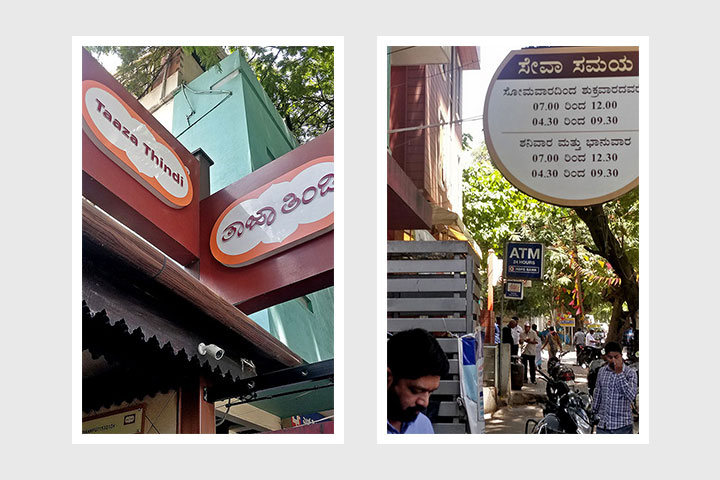 Strangely, Taaza Thindi has no doors whatsoever.
It's more of an Open House. You can walk into spacious, rooms where spankingly clean stainless steel equipment are literally on a roll. Grinding to a paste the batter that goes to make their dosas, idlis and vadas.
The steel plates we eat in and the entire steel cutlery and glasses are meticulously washed by machines, sterilized and only organic solutions are used for the washing purposes. This unit can be seen at the end of wide enough corridor and looks like a large dish washing set up glassed in with uniformed staff at work on the washing and sterilization process.
Women, men and machine in perfect sync. A rare sight to behold and believe this is happening in a South Indian restaurant or eatery.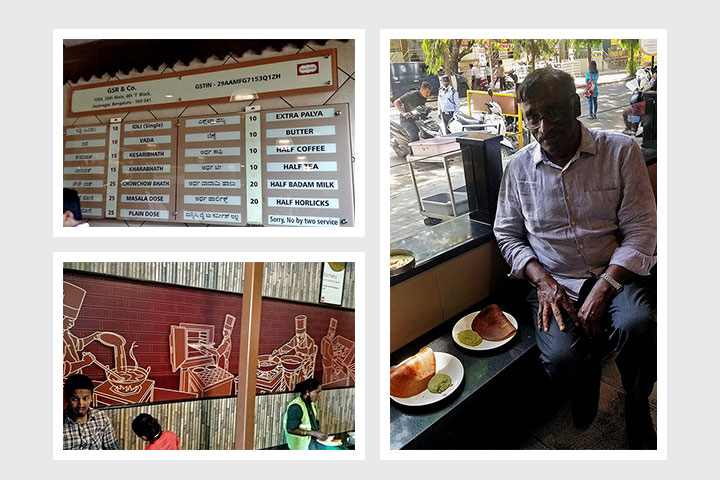 But, what really threw me off balance was the 5-item menu board up on the wall next to the cashier and the pricing. Just 5 items to choose from. My friend's order was straight and final. 2 Masala Dosas, 1 Kesari Baat, Vada and 2 Filter Coffees.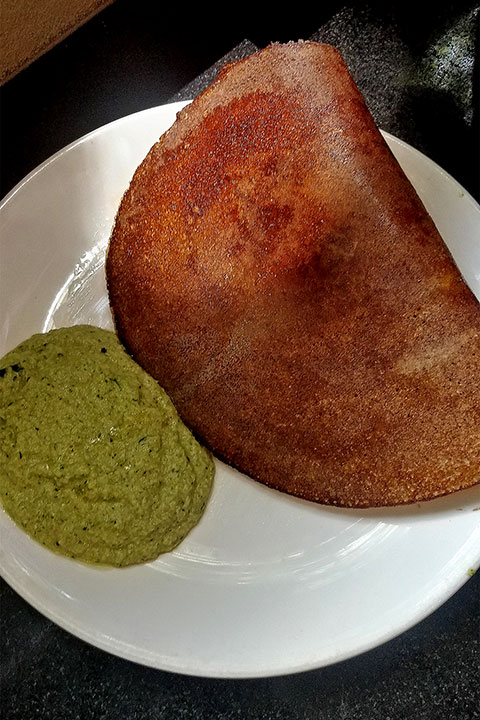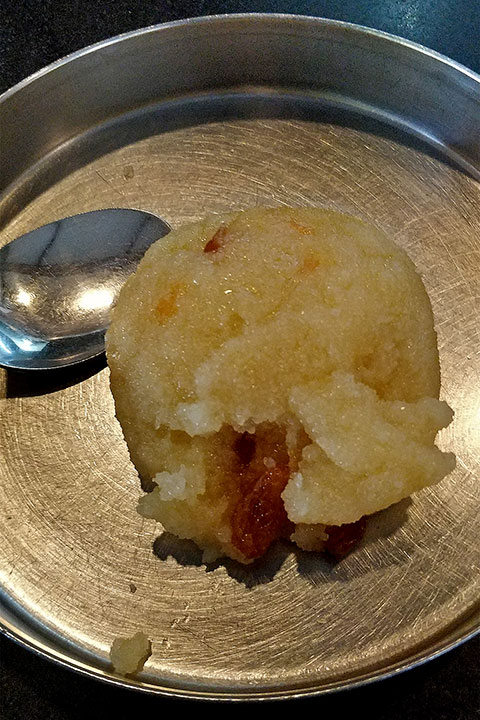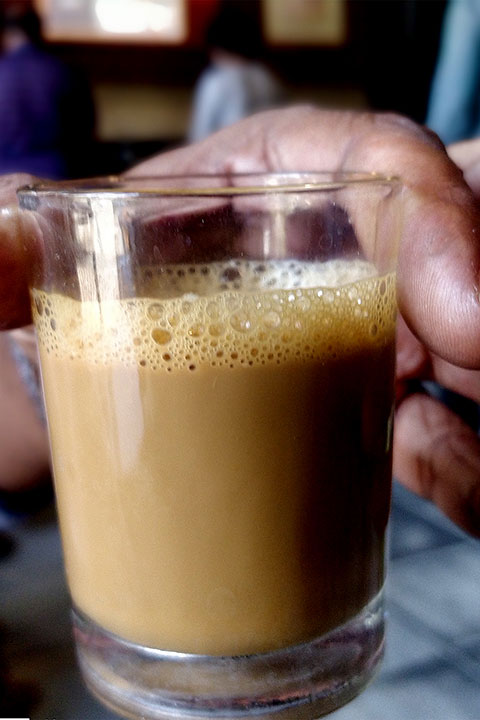 Total cost: Rs 95/- including GST. In these times, unbelievable but true.

We walked to separate counters to receive the goodies on clean steel plates and settled down on the casual ledge to eat along with the fresh COTHA filter coffees in glasses.
The Masala Dosa was crisp, neatly folded over covering a very tasty and gooey potato masala mix. They was a drizzle of fresh ghee on top of the Masala Dosa. And the green, coconut chutney which you could refill at a chutney counter was delicious.

I would have liked to have a couple of Masala Dosas to get my fill. The Kesari Baat was cooked with ghee and just the right sugar. The vada was a crisp creation in itself floating in the green chutney. This TAAZA THINDI breakfast was tasty, affordable and the hygiene was clearly on display. But my relationship with the Masala Dosa had just hit the right notes.
---
Author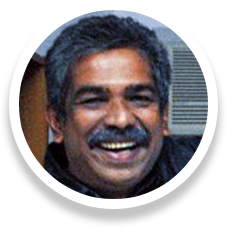 Monu Danesh Surendran works for a retail organization in Bangalore and heads it online and branding division. He is a foodie by passion and therefore tries his hand at stuff in his home kitchen. While not dabbling in cooking during his days off he likes his music and of course trying out food. He prefers home cooked cuisine though restaurant fare guarantees a good outing with friends.
More from the Author