As the eateries have eased out of Brigade Road, Bangalore is getting geared up to handle ever increasing traffic, lakes (or what is left of them), Metro rail (With faulty towers, never ending deadlines and throwing traffic into sheer turmoil), Pan National job seekers, employees, migrant labour and a Govt. that has no clue to strategy or survival.
The future of the city looks bleak.
Nobody even gives a thought of the city's future when all their energy ends up focusing on getting from here to there.
Everyday.
That's scary.
With exclusive Global Brand stores popping up on Brigade Road (think Samsung, One Plus, Levis, Puma, Miniso etc) eateries have graciously moved out. Church Street stakes claim for the term "Food Street" with its paved pathway and a string of restaurants and cafes.
Back in the days, Brigade had Rice Bowl and Shangri La for Indianese or Chinese , Nilgiris Café for South Indian self-service idlis with swirling sambar and of course Haroon's The Only Place for steaks, burgers, roast turkey and apple pies all washed down with chilled branded beers.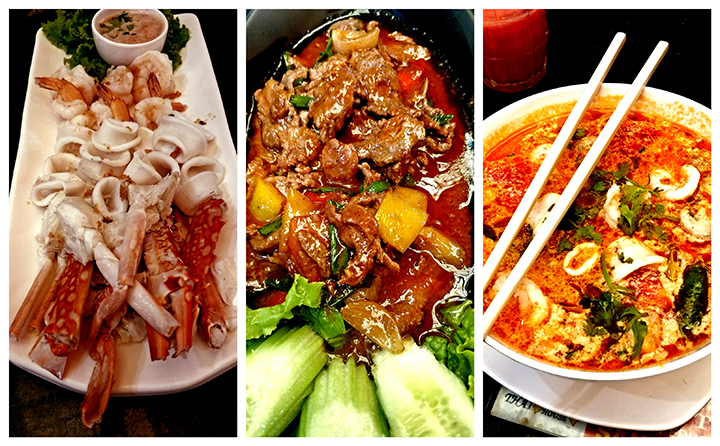 Yeats Bengaluru became India's Pub/Beer/Brewery capital.
THAI HOUSE is located in the vintage 5th Avenue building on the ground floor. It's a very casual laid back place, complete with yellow umbrellas and the signboards of surrounding shops throwing out LED lighting. Getting a good pic here is a bit tough. The 5th Avenue was at a time, one of the first multistoreyed mini – malls on Brigade Road.
I am here again after a year. From the looks of it, THAI HOUSE is very much here to stay and from the folks occupying almost all the tables, it sure looks like their offerings are being lapped up by the Bangalore foodies.
The 4 of us got into ordering the food, especially with tips from the head chef who asked us to try the Specialities of the day – Thai Seafood Platter and Thai Steamed fish.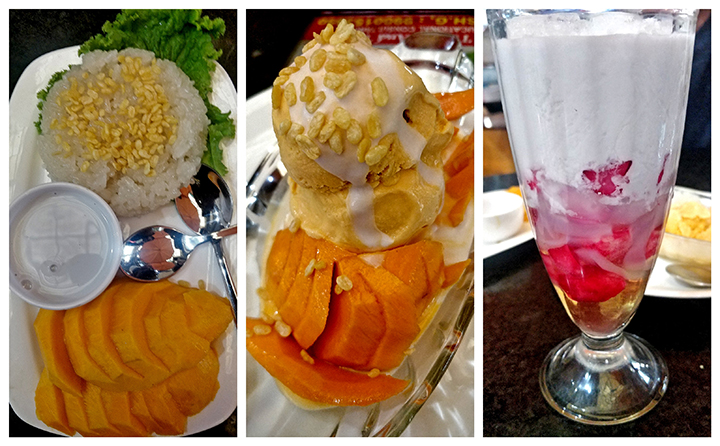 To this we added on Seafood Thai noodle soup and Thai curried Beef.
The Specialities were fresh and cooked right. The crabs, squid and prawns in the seafood platter were cooked without any additives other than a touch of salt. There were spicy sauces and dips to accompany it. You just relished the fresh seafood and a dip into the sauces added the right zing.
The Thai Steamed Fish was juicy with the flavours of lemon, galangal and fish equally balancing the slices of fish that were plated in a dish to make it a whole fish display.
I felt I was sitting by a street or a casual cool, Café. The place exuded that kind of casualness.
The food came fast, like on a Thai street and was really good. Me being a fan of Thai street food in all its forms, I must say this place blew me away. Bang on Brigade road we discovered Thai street flavours.
The seafood papaya salad was crunchy, fresh and prawns felt that they were cooked straight from the sea. The Seafood Noodle soup was yummy with the sharp tang of the Galangal, lemon grass and basil but merging perfectly with the swimming seafood flavoured coconut broth.
The curried chilli Beef was just right with the clean spicy, sweet and sour flavor. Their chilli fish sauce was classic Thai and it went well with the dishes. When I enquired with the Thai Lady who cooks everything up, she said she sources most her stuff (including the fish sauce) from Thailand.
For dessert we had Sticky rice with mango, Ice cream with mango and Water chestnuts in coconut milk.
The water chestnuts came in a long, tall glass looking like a milky falooda.
The slightly sweetened sticky rice with fresh mango slices was a perfect ending to a thai lunch spread that was light both on the stomach as well as the purse. A meal for 4 of us came to just over Rs.3000.
Not bad at all, considering we got a smacking of the Thai street flavor. They have another outlet in Indira Nagar. But this was Brigade Road and to end a leisurely stroll with economical Thai food seemed like ole times. The 5th Avenue has an archaic feel and could do with some renovation and upkeep.
If the chief minister has his way, Brigade Road will be only for walkers and surely then a time for some more eateries like this Thai House to open up if the steep rents don't keep them away.
If you are in the 'Thai me up' mood, this is the place to go!
---
About the Author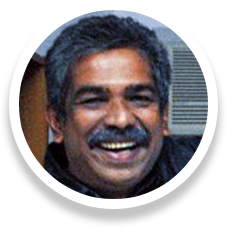 Monu Danesh Surendran works for a retail organization in Bangalore and heads it online and branding division. He is a foodie by passion and therefore tries his hand at stuff in his home kitchen. While not dabbling in cooking during his days off he likes his music and of course trying out food. He prefers home cooked cuisine though restaurant fare guarantees a good outing with friends.
More from the Author