The annual Blues pilgrimage was slowly stirring to life in me.
I called it a Pilgrimage due to the intense scrutiny we Blues fans did of the performing artists, ideal places to stay for 2 nights in Mumbai and of course researching the must visit eating houses to satiate the belly after the head was filled with sound and visuals of Blues music icons playing live.
Yes.
The Annual Mahindra Blues Festival was a pilgrimage for Blues fans in India.
At least to me it was.
'My dad gave REX theatre its name', said Hari (a true blue Mahindra Festival pilgrim) reminiscing of his late father when we met up over the weekend in Bangalore recently.
'He wrote it on a postcard and sent it across to its owners' Hari went on to say. The owners wanted a catchy name for its iconic theatre, through a contest with participation from the citizens of the city.
REX would later have a grand opening on Brigade Road after the owners loved the name.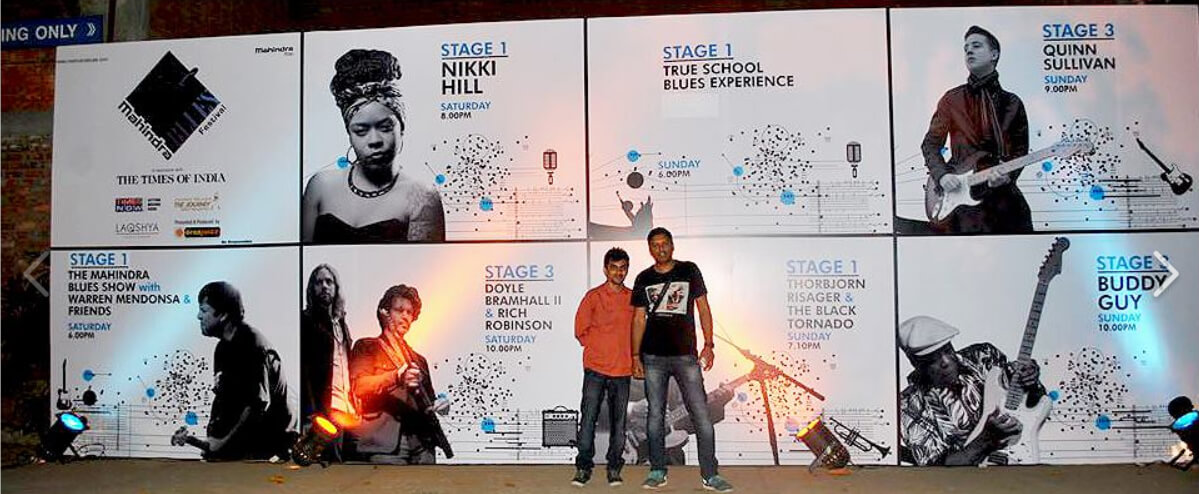 The location for the Mahindra Blues Festival was the Mehboob Sudios, 100 Hill Road, Bandra West, Mumbai. A big salute to Anand Mahindra for his continuing effort of organizing this annual festival.
Built by Mehboob Khan and named after him in 1955, Mehboob Studios provided the backdrop for the success of Mother India and the steamy romance between Sunil Dutt and Nargis.
Just outside the studios to the left was the iconic GOOD LUCK Irani café. As old enough or older than Mehboob Studios.
And the flavor of their Kheema Pav still makes me drool.

It was the 'Dark Prince of Blues' Buddy Guy who drew me to my first Blues Festival Pilgrimage. Along with him were the rest of the Wolf Pack – Dave Bramhall II, Rich Robinson, Lauryn Hill and the young blues stringer Clint Sullivan all of 17 years. He was under Buddy's wing since he was 13.
I felt empowered like Lord Murugan flying off on his peacock from the Blue Palani Hills to Mehboob Studio on the coast of Mumbai.
Music, Food and travel were the passions that glinted off my Trishul.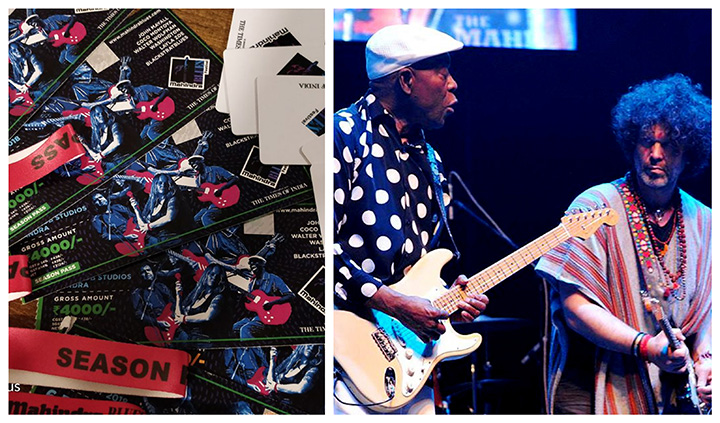 Buddy Guy stomped, screamed, wailed and made his guitar sing along with the rest. The youngest member of our pilgrimage team shot some amazing pictures and even got to shake hands with Buddy. A magic moment he will remember for the rest of his life.
These amazing nights is what brought me back for the next Mahindra Blues Pilgrimage.

This time it was double special. Word had reached my hometown Kollam in Kerala of the buzz surrounding the Festival and along with the regular pilgrims came the Kollam boyz.
If it was Buddy Guy then, it was the 'White Prince of Blues' John Mayall that led the onslaught of the Blues this time. He was accompanied by Coco Montoya, Walter Wolfman, Layla Zoe and Mumbai very own Warren Mendonca and the Backstreet Blues.
This time around Me and my mate Shari Bhaskar hit the venue by morning to convert our season tickets into entry passes to prevent getting hassled by long queues in the evening. After getting hold of all the passes we decided to hit GOOD LUCK Café nearby for their Kheema Pav. The Irani place still had a laid back feel while we swished the pavs into the slushy minced meat savouring every bite. It was heavenly. We ended the meal aptly with Irani Chais.

By evening, The Mahindra Blues Festival had taken on a whole festival like buzz.
There were excellent open air food courts, vinyl resellers in kiosks and premium whiskey brands had their counters in the Premium Lounge where you could sit back on comfy sofas, sip on your choice of drink and take in the concert screened live on a large screen.

And the sound in the live venue was mind-blowing. The sound engineers knew every track which added to the energy and the overall balance of sound.
It was an ethereal meet of Kollam folks in the Mehboob studios. Swapping school stories, picking up missing vinyl rock and blues albums and sipping on chilled brews while giving and getting gyan on the musicians lined up to play for the night. A lot of happy hours later, we hit the main stage, bang below Santigo and Mayall. 
About 5000 blues fans took in every guitar lick and harmonica wail till Mayall bid goodbye to Mumbai.
As we got out of Mehboob studios, it had to be LUCKY RESTAURANT and the foods it had to offer to settle our hunger.
The dozen of us occupied the long table and ordered across the menu.
Biriyani, Chops, kebabs and korma. All kinds of mutton.
The Kollam boys, girls and the core pilgrimage team bid each other goodbye and promised to catch up again for another blues pilgrimage.
GOOD LUCK Café and LUCKY Restaurant were not just eateries.
Their names signified the nature of our meeting at the Blues Festival that year.
Luck was on our side.


MUTTON KHEEMA PAV

INGREDIENTS:
500 gms of freshly minced mutton
100 gms of freshly cooked green peas
1 egg
2 nos medium sized onions
2 nos medium sized tomatoes.
4 nos green chillies.
5-6 stalks of coriander leaves
1 ½ Tablespoons of chopped ginger and garlic
1 teaspoon of Jeera seeds
1 teaspoon of Mustard seeds
1 teaspoon of freshly ground pepper powder
1 tablespoon of Kashmiri chilli powder
1 tablespoon of freshly ground coriander powder
½ teaspoon of homemade garam masala powder
2-3 medium sized bay leaves
2-3 teaspoons of ghee
I tablespoon of oil
PROCEDURE:
Finely dice the onions, tomatoes, green chillies.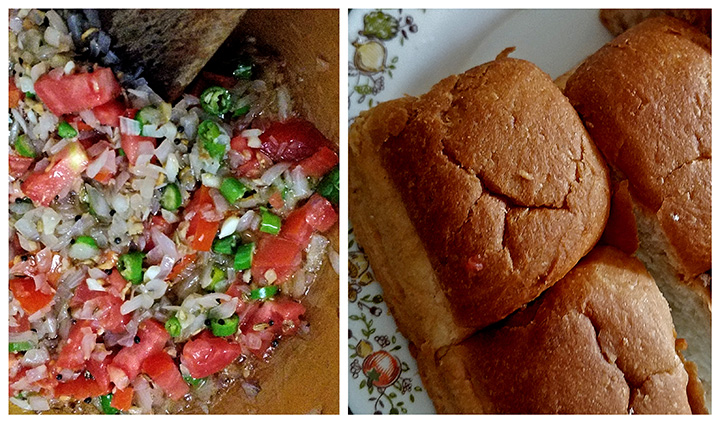 Add a tablespoon of oil and mix with 2 heaped teaspoons of ghee.
When the oil gets hot, toss in the mustard seeds, followed by a teaspoon of jeera seeds.
Add in the chopped garlic and ginger and sauté well. Now add the onions and sauté till browned.
Now add in the chopped tomatoes and the sliced green chillies.
Put the washed minced mutton in and add a tablespoon of Kashmiri Chilli powder, fresh coriander powder, pepper powder and ½ teaspoon of turmeric powder. Add a pinch of homemade garam masala powder.
Mix well. Leave to cook. Add just a little water to keep the gravy consistency.
When the mutton is almost cooked toss in the cooked green peas and stir well.
Finish off with a dollop of fresh ghee and freshly chopped coriander leaves.
Cook up an egg bull's eye and place on top.
Serve with freshly baked Pav.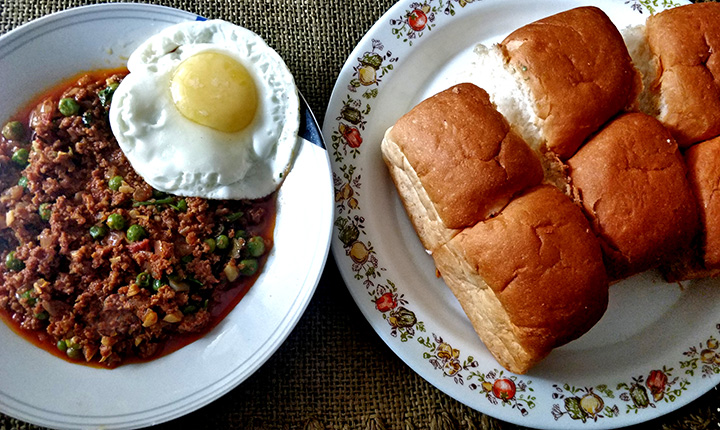 GOOD LUCK and HAPPY COOKING!
---
About the Author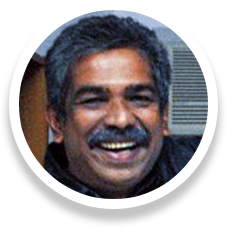 Monu Danesh Surendran works for a retail organization in Bangalore and heads it online and branding division. He is a foodie by passion and therefore tries his hand at stuff in his home kitchen. While not dabbling in cooking during his days off he likes his music and of course trying out food. He prefers home cooked cuisine though restaurant fare guarantees a good outing with friends.
More from the Author