The smartly uniformed Immigration officer's right forearm was sinewy and tattooed. That was a first for me. Me and my mate had just stepped off the ferry at Batam, Indonesia which had chugged out of a chilly morning Singapore harbor about 55 minutes ago. My eyes were scanning the design of his tattoo when he asked me
'What brings you folks to Batam?'
'Just came to see the place', I replied.
You don't want to tangle with an immigration officer who was tough, Indonesian and tattooed.
Right?
'To see what?' He enquired again.
'The sights, the monuments and the people? And try the Nasi Goreng of course' I stammered.
He was sure we were out to enjoy the nightlife like most of the workers getting off the ferry.
He was right. Nightlife meant spending the night drinking, dancing and eating with someone for company.
We had a voucher for a twin bed night's stay in the cheapest 5 Star Hotel ever that included a complimentary morning breakfast. All for just 1500 Indian Rupees.
"Enjoy Batam, Indonesia and our Nasi Goreng" as he broke into a wry smile and stamped our passports with a vengeance. Or maybe that loud stamp is his way of showing how bored he was doing this everyday.
We took a taxi to the hotel, checked in and immediately got out and into a limousine, driven by a cool cat who reminded me of the driver in Die Hard the first movie. He spun us around the works of all the city had to offer as nightlife. The cafes, the clubs with the pole and other dancers, and the street food.
We were on the hunt for a real Indonesian Nasi Goreng, after trying out the Sinagporean and Malay versions prior to coming to Batam.
But, before we dug into a street side Nasi Goreng, we thought we'll ask Philip our chauffeur his advice. We did not bargain for his answer.
'Sirs you may not believe it, but trust me the hotel you are staying in serves the best Nasi Goreng in Batam', he said as a matter of pride. I looked at my mate stunned at what we had just heard.
As all Indians (including us) strongly beleive that 5 star food sucks and is no match for our classic Indian street food signature dishes.
Not very convinced we asked Philip again, ' Are you sure it is better at our hotel than the street joints ?'
'Better than my mama makes it sir!' he replied confidently.
'Moreover, the chef is a friend of mine and he is on the night shift today. I shall personally put in a word for you if you are ordering it from room service.' He affirmed.
That sounded pretty authentic coming from a limo driver in a 5 star hotel who swears that his friend, the chef there, tosses up a meaner Nasi Goreng than his own mother.
That settled the argument.
We settled into our room and ordered in 2 plates of special Nasi Goreng. Not before connecting to the chef and reminding him of Philip's tip. He told me Philip had already informed him.
Anyways it was the best ever Nasi Goreng with seafood we have ever had.
According to limo drivers of Star Hotels in Batam, Indonesia there are chefs who cook better than Mamas.
Strange, but true.
---
Peter Ponniah, our physiology professor was sleek, dark and lanky. And the beard that grew down wild from his chin made him look more like a Rabbi than the brilliant cellular expert he was. He lived alone in his quarters and kept to his single status.
My dish, Chicken Ponniah is named after his process of cooking up a Country Chicken Curry.
From start to finish.
He taught me how to slit the neck of a whole country chicken in one skilled swipe, then hold its bleeding neck down on the floor with your left foot till it was clinically dead. Then to dip it whole in a vessel of boiling water, pluck out its feathers and then burn whatever stubble left sticking out of the skin by lightly turning the chicken over a gas flame.
And then came the classic anatomical cutting up of the bird. Slicing through the joints effortlessly and washing the pieces in flowing water to remove all signs of blood.
The flavor was the delicious spicy combo of red chillies and whole pepper. His dad was from Guntur in Andhra Pradesh famous for its red chilli crops and his mother was from Wynad, Kerala where pepper stalks wound around practically every tree.
Chicken Ponniah was truly twice blessed.
Nasi Goreng. (500 gms prawns for 3 cups of cooked white rice) The fried egg is optional.
Saute up some ½ inch ground ginger and 3 cloves of garlic. Then add in the cleaned prawns. Add a spoonful of dry red chilli powder and sauté for about 2 minutes on high flame till the prawns are cooked and soft. Keep aside.
Saute up a bit of ground ginger and garlic, then add in chopped capsicum and tomato. Saute a bit and then pour in 2 tablespoons of dark soy sauce and mix well till the veggies are cooked and the sauce thickens.
Add in all the precooked rice and mix well. Toss in the cooked prawns and mix them in till they are blended in well. Serve with sliced onion shoots and fresh tomatoes.
Chicken Ponniah (For 1.2 kilos of cut whole chicken) Skin is preferable but optional
In a wok, sauté crushed ginger (1 and a half inch) and garlic (12 cloves) till browned then add in about 6nos of dry red chillies.
Now toss in the sliced onions (3 nos medium sized) and sauté well till they are browned.
Add in the chicken pieces, mix well and add salt to taste.
Cover the lid and cook on medium flame for 15 minutes.
Remove lid, add the rest of the 6 dry, red chillies and 2 tablespoons of whole black pepper seeds, one spoon of red chilli flakes and crushed pepper. Mix well with water if required, close lid, reduce flame to lowest and cook till done.
---

About the Author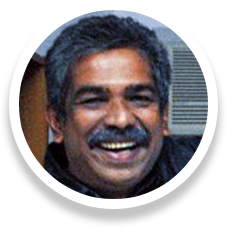 Monu Danesh Surendran works for a retail organization in Bangalore and heads it online and branding division. He is a foodie by passion and therefore tries his hand at stuff in his home kitchen. While not dabbling in cooking during his days off he likes his music and of course trying out food. He prefers home cooked cuisine though restaurant fare guarantees a good outing with friends.
More from the Author