Soundscapes From A Home Kitchen
That day in June, in Kollam, Kerala, the rains came down early in the evening. In a thundering downpour that had started with tiny raindrops bouncing off the leaves and sinking into the earth all around the house. And then the drops got bigger and bigger like sticking to a universal script and then to finally let loose in sheets of water.
Mythili, my 75 year old Ammumma (Grandmother) wondered where the sun went to hide at 4.00p.m. Just minutes ago it was all bright sunshine that streamed in through the windows and turned the black oxide floor into a warmer brown. All the signs of a good day with sunshine.
Now she was literally running around to shut all the windows before the rain streamed through them and drenched everything. Windows. The eyes and ears of a house she would say. Wide open from morning till they were pulled shut just as the sun set.
The raindrops were streaming off their glass panes in rivulets through which she see could see the leaves of the Mango, guava and jackfruit trees take on a darker shade of green as if in thanksgiving to all that water from above. The coconut trees were slightly swinging to the wind and their barks had turned dark with all that water slithering down like tiny rivulets.
Everybody loves the rains. Especially the foliage.
At least the early days of arrival of the Monsoons. The South West monsoons hit Kerala on time in 1975 giving school reopenings a gloomy and wet start. School kids love the rains too. It was snack time. She vetoed her earlier choice of frying up ripe ethakka appams (banana fritters) and suddenly thought of the samosas that her neighbor Umma Beevi had tossed up during Ramzan. She could still smell the coconut oil and the spiced mutton mince emanating from those tiny, crisp triangular wraps that reminded her of the shape of Erupadakkoms (Throwable firecrackers) that kids threw on the walls to explode in a wisp of smoke and the whip cracking sound.
And then she proceeded with her banana fritters and onion pakoras. When I cycled in from school, drenched to the skin in the rains, the house was filled with the aroma of fried bananas and onions and fresh rains. I used to quickly pull off my clothes, briskly rub down my head with a towel, put on the dry clothes folded and placed on the bed, and head out to the armchairs in the verandah where Ammumma had laid out the delicacies in small plates with steaming hot tea on the table. In between enjoying every juicy bite of the pakoras and swallows of tea, I still found time to plug both the headphones into my portable Sony Walkman -2 cassette player.
I delicately wrapped one pair of headphones around my Ammumma's head and the other on mine. And then pushed the play button on DEEP PURPLE'S 'Stormbringer' original cassette and slowly increased the volume to full crescendo as the band heralded the arrival of a thunderstorm in a waterfall of slam bam rock 'n' roll. I remember nodding my head in tune as the rain came down as if in synchronicity to the loud music that no one could hear but the two of us comfortably seated in cane armchairs on the verandah. It was a Soundscape memory that refused to go away after all these years. DEEP PURPLE provided the 'Sound' and the smell of fried pakoras provided the 'Scape'.
Though Ammumma had passed on, and DEEP PURPLE's 'Stormbringer' was alive and kicking on my harddrive along with the rest of my music collection. Why not I thought after all the years? Why not bring on that Soundscape in my home kitchen in Bangalore and fry up some hot pakoras. It was raining. Not heavy like the Kerala showers though.
But I did a twist to the scape. Instead of onions, I used fish from 'Fresh to Home' the online store. And instead of Besan flour, I used Corn.
I convinced my mother on why I wanted fish instead of just onions. Convincing her was easy whenever I spoke of my grandmother, her mother. That is a soundscape across 3 generations.
I proceeded to mince the fish, slice up some green chillies, ginger and garlic and roughly crushed them in my trusted black mortar and pestle along with whole peppercorns.
After mixing the ground pulp into the minced fish, I added in a beaten egg and 2 tablespoons of cornflour in 50 ml of water and mixed it well with my hands for all the ingredients and salt to taste to blend in.
And for a grand finale I requested my Mom to roll them and slide them gently into some bubbling coconut oil as I had to shoot a short video. She delicately rolled the mix and dropped them one by one into the oil.
She used the traditional steel spatulas to lift them gingerly out of the oil when done.
The fish pakoras shone a glowing brown and tasted awesome. Even my mom was impressed. I was happy I could recreate a Soundscape after all these years.
There was DEEP PURPLE thundering through my Bluetooth speakers in the kitchen, there was the reluctant Bangalore rains playing truant and the aroma of fried fish pakoras drifting through the home. I'm sure Ammumma and members of DEEP PURPLE would have smiled in agreement!
About the Author:

Monu Danesh Surendran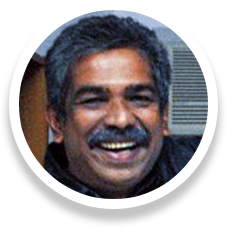 Monu Danesh Surendran works for a retail organization in Bangalore and heads it online and branding division. He is a foodie by passion and therefore tries his hand at stuff in his home kitchen. While not dabbling in cooking during his days off he likes his music and of course trying out food. He prefers home cooked cuisine though restaurant fare guarantees a good outing with friends.
More from Monu Danesh Surendran:
• Beet It! Meat It! Mutton Chukander By Monu Danesh Surendran
• BUNNY CHOW By Monu Danesh Surendran
• Kuttanadan Duck Roast