Tea in the afternoon? At lunchtime?
In Kollam, Kerala, it is a definite 'No No'.
Even in 2020.
Especially at all of the hotels and restaurants traditionally renowned for the food that are on offer during lunch hours.
This applies to Thiruvananthapuram, Kochi and Kozhicode.
Come to think of it, this was a Kerala wide phenomenon.
Even during our prime college years, circa 1977-79, when we were free enough to discover eating spots other than homes, a strong kerala chai was always a taboo during lunch hours. Even after 40 odd years, getting tea during lunch hours was a no brainer.
Lunch time, no Chaya (Tea). Period.

This is solely because the Malayalee takes his lunch seriously. Rice and accompaniments, Biriyani or Parotta. Restaurant fare or home cooked meal. Well packed and carried along with the office bag. Lunch was never followed by Chaya. Water was the way to go.
But Chaya had its own respectful, designated time in the day of a Malayalee.
It was a silent, sober ritual. At around 4.00 p.m., everyone took a break from work, sipped on a chaya and nibbled on a parippu vada or banana fritters. The not so lucky ones cooped up in offices had to make do with pantry made or 'Machine Coffee'.
Chai time was etched in the Malayalee DNA.
But Chaya during lunch hours? Pure sacrilege.
Hotel Ezhuthani was way different even back in the days. There was no designated lunch hour or lunch time menu. Steaming, strong and fabulous tea was available at all hours.
Kollam Mutton curry the prime dish here along with parottas, appams or idiappams.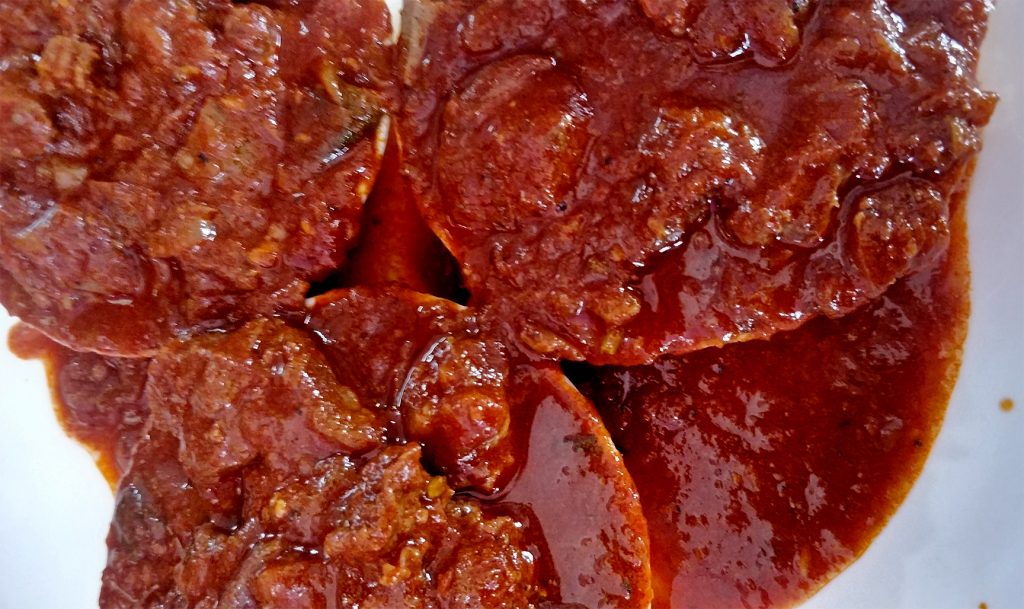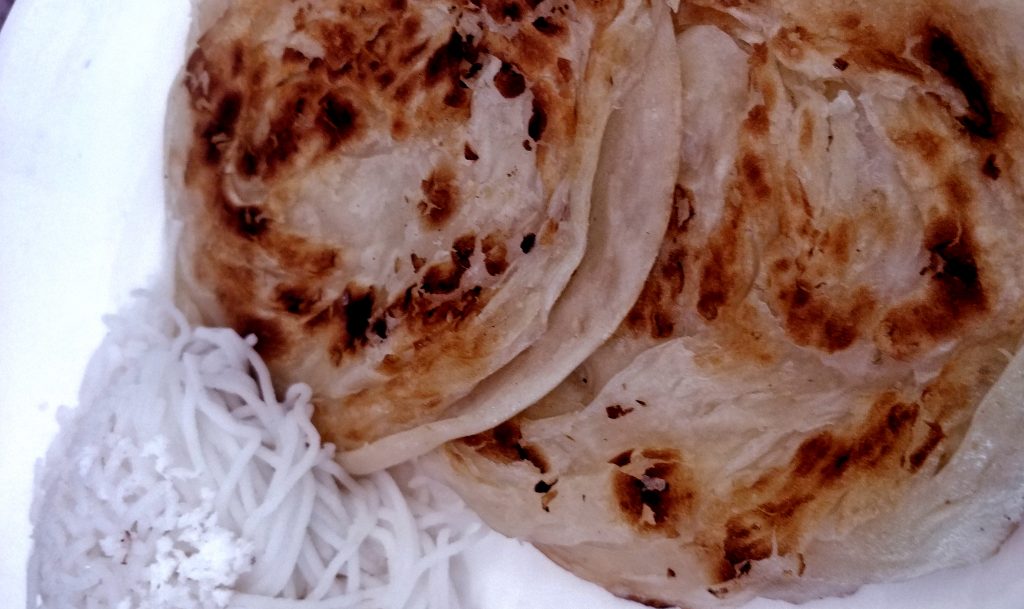 The other attraction here, again not designated to just Chai or tea time was their traditional Vettu Cake or Cut Cake. Available all day long!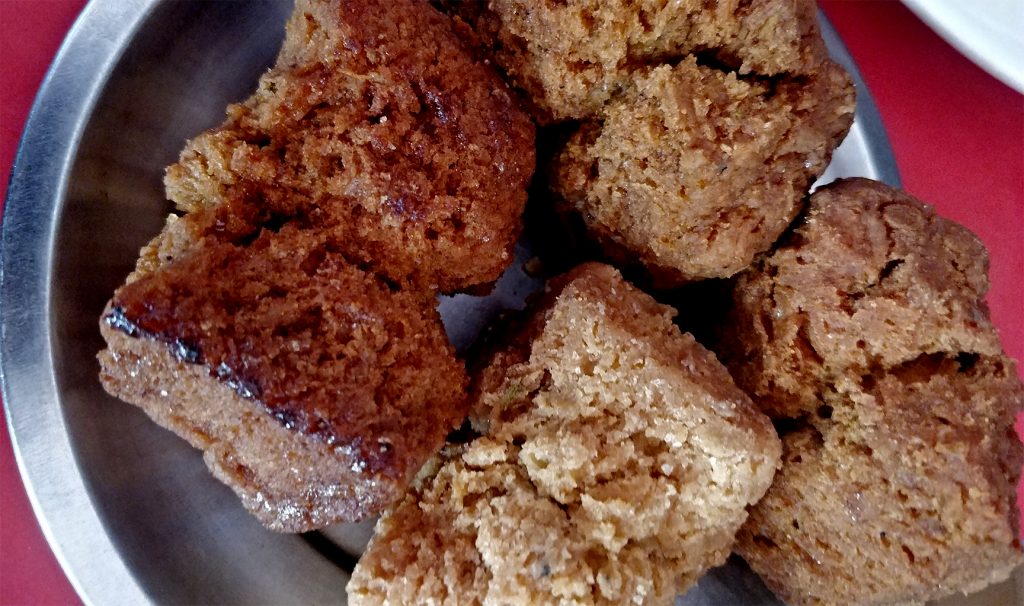 The Vettu Cake is a traditional tea time dish from eons back when Chaya Kadas or Tea stalls had wooden framed glass cupboards stacked up with Vettu cakes, banana fritters, vadas or any other snack of the day. The glass cupboard served as both display and a storage container. Either the tea stall owner or trusted customer would slide the frame, grab a snack and slide the door shut. The tea made fresh and poured into glasses slammed onto your table would be the perfect accompaniment to the snack.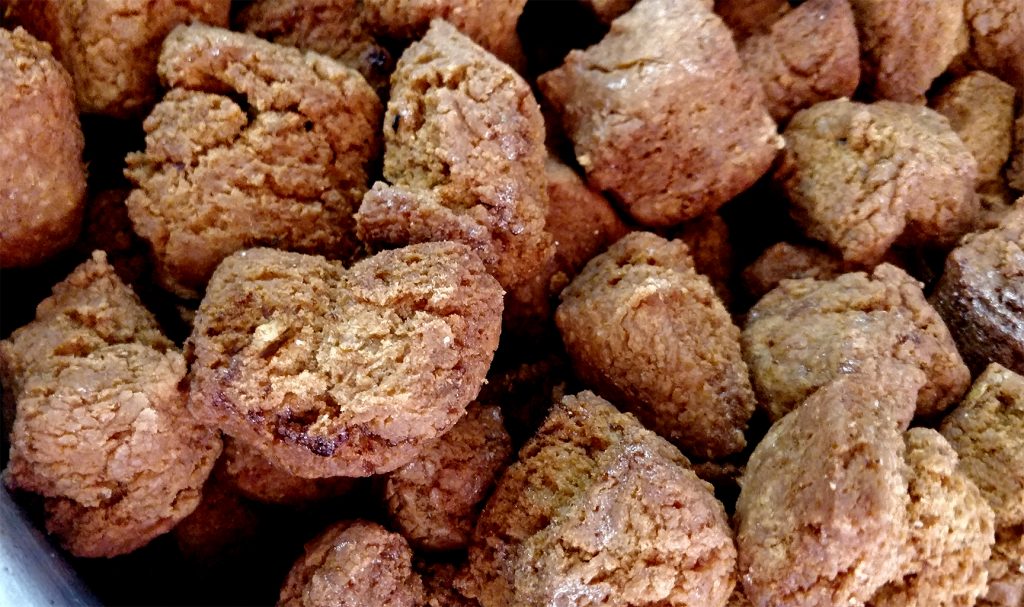 Hotel Ezhuthani had this large tea stall ambiance, complete with Vettu Cake and hot tea all day long. Though this iconic Hotel is listed on the Kollam Mutton Trail, it was the Vettu Cake and tea combo that took my breath away. I had come for the Mutton, but the Vettu Cake I just could not get enough of. Made of Flour, eggs and sugar, all beaten by hand, these chunks of cake bits were deep fried in fresh coconut oil and tossed into large Vessels all day long. The folks were eating them and taking them away too in large parcels. No baking here. Just plain old frying. But the cake had a texture – crispy outside, not so crispy inside and a flavor that is sure to get you addicted.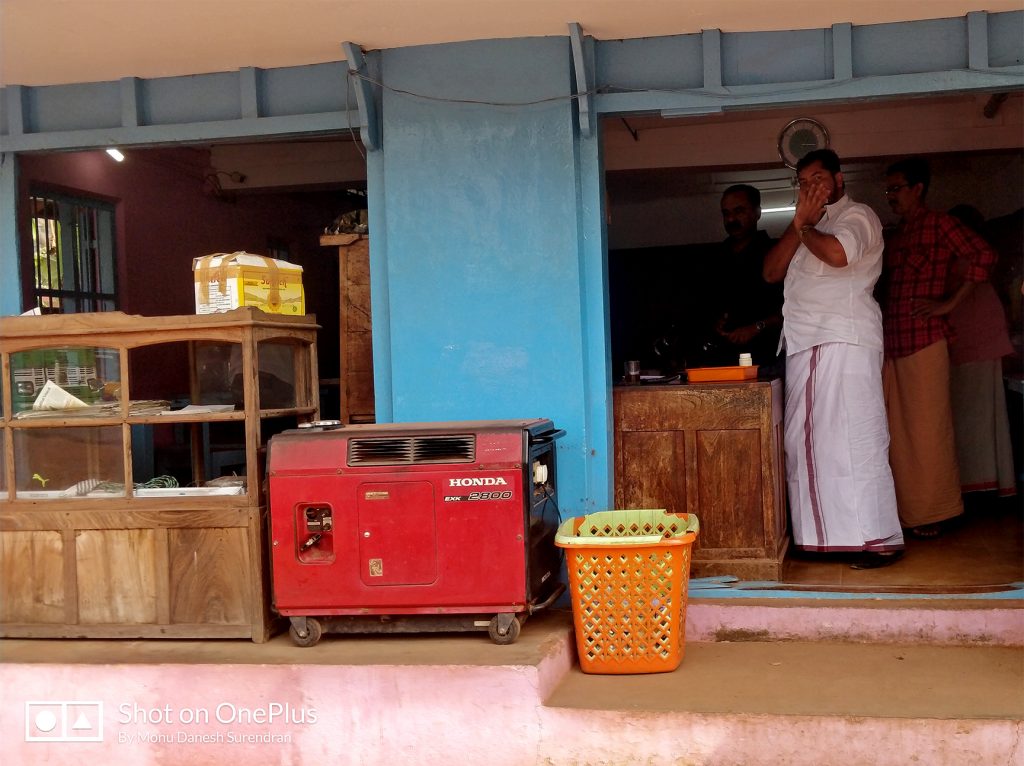 This Kollam Hotel has no signboard, cash register, invoice or uniformed staff.
Every person serving your table remembers every morsel you have eaten and the exact number of tea you have gulped down. He verbally shouts out the total to the man at the desk who religiously gives you back the exact change and packs up your hot Vettu Cake order for my takeaway. Like clockwork.
It has been in its present location for over 70 years. The goats are still herded and cut to Halal standards in house since the time it opened till today.
It was 12.30 noon when we sat down at an Ezhuthani table.
Mutton curry, parottas and pappadoms.
Yes. Pappadoms.
Fluffy pappadoms fried in coconut oil piled on a plate. The standard mutton curry in a dish and parottas in another large plate. I had a closer look at the crisp, hot parottas. They were smaller and thinner. But flakier with a thin roasted crust outside. Again I am told these parottas were made with coconut oil.
Our timing was right. The mutton curry was just made. Soft mutton pieces in a thick reddish gravy. It was all about the time at we had the mutton curry. Every Kollam hotel serving mutton curry had its distinct timings when the mutton was freshly cooked and served. I had been to Ezhuthani before during the evening hours and I was not impressed with its mutton curry. Take my advice, hit Ezhuthani at noon. If you are a  Kollam mutton fan like me.
But it was the vettu cakes and chaya that completed our meal. We ordered a bunch of vettu cakes to take away. I am told they sell thousands of Vettu cakes a day.
I'll be back for sure to Ezhuthani Hotel.
But this time for the vettu cakes and steaming hot chaya.
An all day long Chaya kada that also serves mutton curry still thrives in Kollam at Ezhuthani.
It is a landmark, signboard not required.
___________________________________________________
About the Author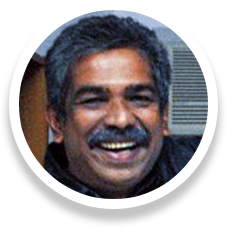 Monu Danesh Surendran works for a retail organization in Bangalore and heads it online and branding division. He is a foodie by passion and therefore tries his hand at stuff in his home kitchen. While not dabbling in cooking during his days off he likes his music and of course trying out food. He prefers home cooked cuisine though restaurant fare guarantees a good outing with friends.
More from the Author'