Period: Sometime in the 80's
Location: Palayam and Thampanoor, Trivandrum, Kerala
The switch-over went unannounced.
But we knew that another day in Trivandrum city had come to a close as the shops and stores on the Palayam Main road rolled down their shutters. Especially the CORONA (Poor man's BATA is what folks called the brand) shoe store. The deep growl of the creaky shutters rolling down somehow signalled the official end of the day. Then it was time for the night crawlers. We were part of the city's night crawlers too, but just for food.
Some of us regular boys were lapping up law, journalism, medicine, engineering, doctoral studies. We were students who had left our homes to study In Trivandrum.
The University town.
If a stream of study had a name, then Trivandrum would have the institution teaching the stream full fledged. You enrolled for your course of study and the lucky dudes lived in the university and campus hostels. For the rest it was finding your own accommodation and food.
And of course home was just an hour away by rail or bus. That was comforting.
I had homed into Travel & Tourism studies. Who did not like geography and dreaming about aircrafts, airports,pilots and the folks who spent the whole day in an airconditioned environment ticketing and sending passengers and cargo all around the globe. I somehow felt this was my path to the future. Aviation and all that went with it. This was my mission and purpose in life and no one could talk me out of it.
That deep rolling sound of shutters was the signal for the Thattudosa stand to be set up by the Blues Brothers. It was a clean, silent operation. They laid out the tables, cupboards, stools, stoves, vessels, glasses and plates. Then they set down the ladles  and the dosa mix in large containers, the chutneys in large steel vessels and hundreds of chicken and duck eggs in trays.
The setting up was done with clockwork precision every day.In no time you had an outdoor street food stall or like Trivandrum folks like to call it – Thattukkada. Like the Blues Brothers one was a no bullshit short, stalky guy with a beard, and the other a silent, fair, lanky dude who never spoke. They made a great combo and within an hour of setting up shop, they were on a roll. Flipping steaming dosas, cleanly folded omlettes or egg bull eyes onto freshly cut banana leaves set in a thin, steel plate.
The stocky brother would wield his long handled iron spoon and hover over the steaming dosa kallu turning over a dozen dosas as elegantly and effortlessly like the priest of the Palayan church handed out the communions to queues of kneeling believers during Sunday Masses.
We were queued up like believers.
The Blues Brothers were never partial.
Early come, early served. It was their code. You just fell in line.
Period.The bounty on a plate was well worth the wait.
Hot, steaming dosas. Coconut chutney and its red, fiery, spicy partner.
And seating ourselves on the steps of the CORONA store, we would lap up upto 20 dosas and 6 bull's-eyes each dipping in and out of the two chutneys as the Blues Brothers kept flipping hot dosas into our plates.
Easy on the purse and light on the tummy is how we judged the Thattukkada's content and pricing.
We were living on tight budgets. The monies were from parents.
We had to make something out of ourselves with all the books and studies.
But come a weekend or some dude's birthday, we had to down our customary beers and rums. After the drinking session got over, our throats were hoarse with all the singing and our stomachs needed more meaty nutrition than our Blues Brothers dosas and eggs.
This is when we discovered the Killipalam spicy, fried chicken.
We were hooked from the first juicy, spicy bite. And our combined opinion was unanimous. This was the best ever fried chicken we have ever laid our tongues on.  And it must have been so with the hundreds of others sitting on benches and devouring the chicken and parottas. There was something about that fried chicken. Even though the next morning 'our tail lamps would flash red', there was no escaping the flavor of this fried chicken.
During that period in time, it looked like everyone in Trivandrum was hooked on it too. After late night movies, extended combined studies, music concerts or plain piss up sessions – it had to be Parottas and the Killipalam Fried Chicken.
And the magic was the open air seating. It was like a food festival with only one dish on the menu. Fried chicken and parottas. And all those red chilly flakes deep fried in coconut oil spread all over the top of the juicy chicken.
Eat, repeat.
Here's my attempt in my home kitchen in Bangalore to recreate this classic dish.
Recipe
Chicken curry cut – 1 kilo
Red chillies – 25 nos
Ginger – 3 pieces of 1 inch and half
Garlic – 25 pods
Curry leaves – 3 large sprigs
Coconut Oil – ½ cup
Procedure

Blend the red chillies roughly and keep separately.
Blend the garlic and ginger and keep separately
In a vessel, heat 4 tablespoons of coconut oil and fry ¾ th of the blended ginger garlic paste.
Then add all 3 sprigs of curry leaves and stir well.
Then add 3/4th of the blended red chillies and sauté well adding in the coconut oil slowly.
Now add in the chicken pieces, add required salt to taste and mix well till all the ingredients are blended in.
Add a cup of water and cook on low flame till it is cooked well.
Now slow roast the rest of the blended red chillies and ginger garlic paste in the rest of the oil.
Toss the roasted chilli flakes all over the top.
Best served with Kerala Parottas or Chappatis.
Watch the Video Here
---
About the Author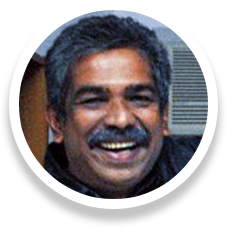 Monu Danesh Surendran works for a retail organization in Bangalore and heads it online and branding division. He is a foodie by passion and therefore tries his hand at stuff in his home kitchen. While not dabbling in cooking during his days off he likes his music and of course trying out food. He prefers home cooked cuisine though restaurant fare guarantees a good outing with friends.
More from the Author