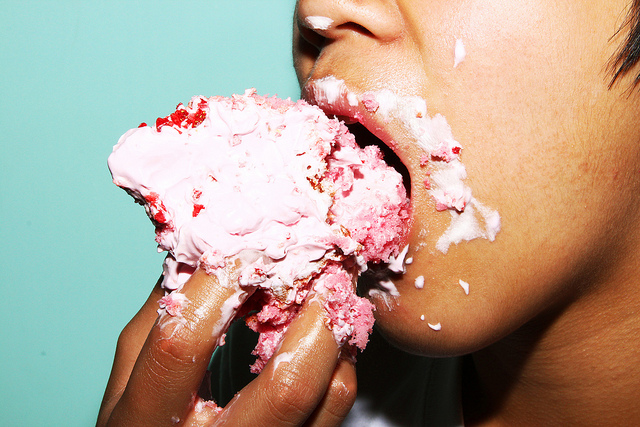 The Art and Science of Mindful Eating
Reena was impatiently waiting for her husband's arrival from his office. She had prepared a special dish for him, a new  variety of chicken curry. She got the recipe from her close friend who is an expert in cooking. Reena had many doubts during the preparation. She got them cleared during the process of cooking. Her children who had their supper early were actually thrilled to enjoy the wonderful taste of the curry. They were very lavish in appreciating their mother for cooking such a tasty dish. She was hoping and expecting a similar motivating response from her husband also.
It was about 9'O clock in the night, when her husband came after some busy meetings in his bank, where he is the manager. He came to the dining table after his bath. He switched on the TV and started watching the news. Reena served the supper with great enthusiasm and sat near to him watching his face. He seemed to be engrossed in the TV programme, while he was eating. She was eagerly waiting for knowing his opinion about her special chicken curry. But alas,not a single word came out from his mouth. His full attention was on the TV programmes and he was relentlessly changing the channels.
"How is the chicken curry…?"; Reena impatiently asked her husband at last.
"Oh!  Is it a chicken curry?"; He indifferently asked, still looking at the TV screen.
Reena was frustrated and irritated by her husband's indifference. She was at the brim of a cry but she controlled herself and said in a louder voice;
 "You are always too busy. You don't have time for eating properly". With a sigh, she continued; "You are always watching TV or talking on your mobile or reading papers while eating. Then how can you get the taste of the food. .. You are like a robot without any awareness or emotions."
The husband looked at his wife's face with surprise. Her emotional outburst was unexpected and he tried to pacify her. Her words touched his heart and he felt guilty for his behavior. He switched off the TV and promised her to change his lifestyle.
Such incidents are too common now-a-days. Today all are too busy and becoming more and more mechanical and are always feeling time pressure. They don't get time, to experience and enjoy truly the precious moments in their lives. They have lost their mindfulness and self-awareness. They eat without knowing that they are eating. They watch TV, talk or text on mobile phone during dining. They are not aware of what they are eating or how much they are consuming. They cannot enjoy or experience the taste and texture of the food they are hastily gulping.
Warning by researchers
Dr. Robinson, psychologist, and researcher of Liverpool University has found that the habit of watching TV or talking or checking on mobile while eating will adversely affect the mind's capabilities like self- awareness, memory, concentration etc. Your mind and attention are fully on the TV programme or on your mobile and hence you are unaware of the taste, smell and measure of the food you eat. You are unable to know when your stomach is full. This will result in overeating and consequent health hazards. Moreover, the pleasure and enjoyment of eating is lost and you may develop a disinterest or even hatred towards food and eating. Dr. Rohinson's research findings are a serious warning to the modern man who rushes through a hectic life.
Moreover, when you watch a TV serial while eating, strong emotions and feelings are aroused which may inhibit your gastric and digestive secretions needed for digesting the food you eat. Eating without awareness becomes a mere mechanical process of stuffing your stomach with too much junk food. This may lead to serious intestinal problems and obesity.
Art of mindful eating
The famous Vietnamese Buddhist monk, writer and peace activist Thich Nhat Hanh , once said; 'Mindful eating means simply eating or drinking while being aware of each bite or sip. When I drink tea there is only me and the tea; the rest of the world dissolves'.
Scientific studies have shown that delicious food can calm your mind and lead to higher levels of happiness. When you even think of the food you love, a biochemical change is beginning to happen in your brain. Dopamine, the neurotransmitter produced will induce strong waves of happy feelings in your mind. This has been proved by UCLA university researcher Alex Corb.
The popular Spanish saying; the stomach rules the mind is really relevant. The vitamins, minerals, fatty acids etc are highly essential for the brain health and are specifically helpful in reducing depression, anxiety, restlessness etc. Eating of walnuts, flaxseeds, dark chocolate, brown bread, cheese, fruits etc. can induce cheerful mood in a person. The famous American author and journalist John Gunther once said; 'All happiness depends on a leisurely breakfast'.
All living creatures in the world eat with full attention, totally immersed in the flavor of food. Some are even closing their eyes to avoid distractions.  Humans of the present age are the only exception. Modern man eats with divided attention, with hurry and worry. He mechanically gulps food without attention and awareness engaging in some other activities, like, watching TV or reading a newspaper or talking or texting on his mobile phone. This tendency for multitasking destroys the pleasure of being in the present moment, misses the blissful experience and enjoyment of eating.
How to practice mindful eating
Mindful eating is a holistic experience in which your body, mind & spirit will simultaneously participate. Your five senses will be involved in the act of eating. Take time to see and enjoy the different colours of the food in front of you. Smell the invigorating aromas of the cooked food and the fragrance of the fruits. Inhale deeply and absorb the sweet scents fully for maximum enjoyment. Try to feel the touch of the food with love and experience the softness, smoothness or warmth on your fingertips before you eat. Take enough time to chew the food slowly and let the different flavors delight your taste buds. Enjoy the cracking of the chips and papads and other fries as- if you are listening to a wonderful rock music. Oxford University researcher, Prof. Charles Spencer found that potato chips will taste better if they crack louder when you bite them. If you drink soup or juice or tea don't gulp, give time to enjoy the flavor in every sip. Follow the popular maxim; 'Drink solids and eat liquids'.
When you practice mindful eating you really begin to enjoy the act of eating with your five senses. You are totally immersed in it, with total awareness. The famous American actor Elizabeth Olsen once confessed;   'I get way to too much happiness from good food'. In the same way, you can also find real happiness through mindful eating.
Is eating a spiritual experience?
Can you make eating a blissful spiritual experience like meditation? Experts say that it is possible. They suggest some practical methods for this.
Express gratitude before eating
Chelsia Hudson, a Chicago based psychotherapist, and counselor suggests expressing sincere gratitude for the food you are going to eat. "Think about where the food came from and express gratitude for those labored to produce the food"; says Hudson. Actually, the practice of saying gratitude and prayers to Almighty has been followed since very ancient times but it is lost in the fast-paced hectic modern life.
Eat with your loved ones
The famous Italian actor and fashion model Monica Anna Maria Bellucci says; 'When I eat with friends it is a moment of real pleasure when I really enjoy my life'.
Scientific studies by the American Journal of Clinical Nutrition showed that dining with your loved ones will reduce your stress level and enhance your happiness.
Delight all your senses
Smell, taste, touch, sound, and sight are god given gifts which help heal our bodies and minds. How we use our senses determines the degree of our happiness and wellbeing. Mindful eating delights your five senses. Take time for enjoying the vivid colours, and aromas of the food in front of you. Try to savor all the flavors and textures of the food. Slowly chew the food enjoying the music and the rhythm of chewing. Mindful eating will become a holistic, ecstatic experience of the present moment.
Cooking as a therapy
The famous Irish novelist and non-fiction writer Marian Kayas has confessed in her famous book, ' Saved by Cake', how she cured her deep depression with cooking. American psychologists are now recommending cooking classes for the treatment of mental illness. According to John Charles Waite, the famous English musician, cooking is a meditation that heals. You can easily beat your blues by cooking food and eating it mindfully with your loved ones.
Summing up
Eating is not to be made a boring routine. It is really an art and science which enhances your health and enriches your life. Practice mindful eating and love and enjoy your food. The famous English play Wright and critic George Bernard Shaw once commented; 'There is no sincere love than the love of food'. Le Roy Neiman, the famous American artist once said; 'Eating is one of the greatest beauties in life, one of my favorite recreations'. When you eat mindfully, with total attention using all your senses you can enjoy it like music or meditation and it will become a holistic, and ecstatic spiritual experience.
About the Author: 
Dr. JOHN MUZHUTHETTU is a Human Resource Consultant, National Trainer and Counselor. Formerly he was the Deputy Chief Engineer, Kerala State Electricity Board and is still working as an external faculty of HRD Programmes of KSEB. He is also a faculty of Department of Management Studies, Mar Augusthinose College, Ramapuram, under M.G.University, Kerala. He is the PG course co-ordinator of MHRM.
He is columnist in several Magazines, like 'Business Deepika', 'Creative Business', 'Donbosco' etc. His articles have been published in many magazines and journals. His several speeches have been aired by All India Radio. His interviews on various subjects have been  telecasted by Power Vision TV . He is the author of five best-selling books:
'Stress-Manassasthra- Aathmeeya Pariharangel'. (Current Books, Thrissur) 4th Edition
Vijayiyude Vyakthithwam (Current Books, Thrissur)
Jeevitham Santhushtamakan, Nithya Yauvanam Nedan.(css,Thiruvalla)2ndEdition
Emotional Intelligence-Jeevithavijayathinu (CSS, Thiruvalla)
Vijayarahsyangal (Current Books, Thrissur)
As a trainer, he has conducted more than thousand  seminars and workshops for teachers, parents, students, executives and others, on several subjects like Stress Management, Time Management, Personality Development, Emotional Intelligence and Spiritual intelligence for Excellence, Communicative Skills, Assertiveness, Motivation, Study Skills, Effective Parenting, Counselling Skills etc. He is an external training faculty of Power Engineers Training and Research Centre of KSEB. He is  an external faculty of IMG Cochin. He is also the Secretary of Upasana Cultural Centre, Thodupuzha. Email:(John_muzhuthettu@rediffmail.com)
Read More from Dr. John Muzhuthettu:
MEDITATION FOR BOOSTING YOUR BRAIN AND HEALING YOUR MIND: TIPS AND TECHNIQUES
20 SUPER TIPS FOR A GOOD NIGHT'S SLEEP
 Image Credits: Photo and Share CC via Flickr.com