There is not a drop of ghee or other oil additives on any morsel of rice. "We don't add ghee or any oil to the rice. It makes the rice stay fresh for a long time! – says Mr. Rasheed the owner of  Kwality Hotel in Bhatkal.
Although it is pretty similar to traditional biryani, it has a signature Mangalorean coastal touch, and the added ingredients of curry leaves and mustard, that make it a signature dish it is
The technique is different, flavoursome and mouthfeel too. It's unimaginable. You get the Homemade Biryani, from Bhatkal  Railway station in `Pottlums' for passers by.
Let's give it a try. We from the TDB  Kitchen take a religious effort to reproduce the recipe concocted by the Bhatkal chefs.
Ingredients
| | |
| --- | --- |
| Mutton with bones | 1 kg. |
| Sliced Onion | 2 nos. |
| Garlic | 5 cloves |
| Giinger | 2tbsp |
| Green chilies paste | 6 nos. |
| Half slit  green chilies | 4 nos. |
| Chopped Onion for sautéing | 3 nos |
| Mustard Seeds | 1tsp |
| Tomatoes chopped | 2 nos |
| Chopped Mint leaves | 1tbsp |
| Turmeric powder | ½  tsp |
| Garam masala powder | 1 tsp |
| Chopped coriander leaves | 2 tbsp |
| Salt | To taste |
| Curry Leaves | 1 sprig |
| Cooking oil (or as per requirement) | |
| Basmati long grain rice |  1Kg |
| Cardamom | 4 |
| Bay leaves | 3 |
| Some chopped coriander leaves | 3 |
| Lime Juice | 1tbsp |
| Cooking oil | 2tbsp |
| Salt | 1tbsp |
Wash, rinse  Rice about 5 times till water runs clear. Soak for 20 minutes. Grind together onions, Cloves of garlic, the same amount of ginger &  green chillies to a smooth paste.
Heat oil in a pressure cooker and allow mustard seeds to crackle, fry the ground masala, then add curry leaves,
Add chopped tomatoes, 1/2 tsp turmeric powder & 1 tsp garam masala powder. Fry well till tomatoes are well combined and the oil surfaces to the top. Drain the oil and keep separate.
Then add mutton pieces, salt and 1 cup water, Sauté for few minutes till the meat slightly turns brown. Place the lid and pressure cook for  30mts or until mutton is cooked. Once cooked add balance coriander leaves.
Heat a large vessel filled with water Boil and add bay leaves, cardamom, Lime Juice, chopped coriander, salt, and oil. Add the soaked rice and cook till almost three fourth done.
Drain the rice in a colander and set aside. Add half of  ¾  cooked Mutton Masala to the rice vessel and add half cooked rice and sprinkle with half of milk, rose water saffron dissolved on top of rice. Add chopped coriander leaves and the fried onion.
Repeat the process of arranging layers of rice and mutton. Seal  hermetically  the vessel with anatta [wheat flour] dough, tightly cover with a lid and Put red hot glowing charcoal on top and then spread evenly down the vessel too
Cook for  20 – 25 mts. Once the atta is puffed up and tight the  Biryani is cooked well. Remove charcoal from top and bottom. Allow to remain in the vessel  for another 15 mts
Serve hot with Santrae ki Raita and Imly date chutney.
---
Recipes Credits
SuperChef Nandakumar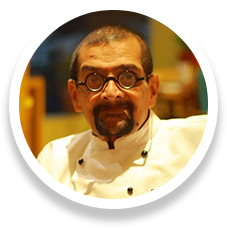 Chef Nandakumar Menon or 'Chef Nandu as he is known evolved into the Super Chef series. He was at the CASINO HOTEL in Kochi and later at the remarkable COCONUT LAGOON in Kumarakom. Both iconic Hotels and restaurants of repute for the quality and consistency of food offered at their restaurants. Coconut Lagoon where Chef Nandu headed the kitchen moulded him to cater to international clientele from all over the world coming in to experience the magic of the backwaters of Kerala and Kerala itself as a unique destination.
From his early Catering Technology days at Adayar, Chennai and training at the famed TAJ MAHAL INTERCONTINENTAL HOTEL, Mumbai, Chef Nandu was back again at the Welcome Group's ADAYAR PARK INN, Chennai.
Later he headed the setting up of the various F&B outlets of the ABAD PLAZA group, Kochi as its Corporate Chef.
And then with the Quilon Beach hotels, Chef Nandu created a redefined art of culinary expertise. His clientele were Doctors, Cashew businessmen and of course celebrities from the tinsel world, the cloyed connoisseurs had a different feel with his nouvelle cuisine.
He still loves to cook and share his valuable experience of the world of food with The Daily Brunch and its readers in our series on SUPER CHEFS.
Cheers!