A biryani originated from the Royal Kitchens of Awadhi cuisines for the Nawabs of Lucknow. History reveals that Lucknow was the capital of Awadh regions. Lucknow the Anglicized spelling of local pronunciationLakhnau. The cuisine of Awadh is known as DASTARKHWAN-E-AWADH. In this method they call it as GALAWATI cooking style.
Ingredients
Chicken Marination

Boneless chicken[Tikka like pieces]
1 kg
Hung curd
½ cup
Cashew Paste
1 tbsp
Ginger garlic paste
1 tbsp
Garam masala
½ tsp
Fresh Thick Cream
1 tbsp
Melted Butter
1 tbsp
Turmeric powder
¼ tsp
Kasoori Metthi Powder
½ tsp
White Pepper powder
½ tsp
Lemon juice
1 tbsp
Mustard Oil
1 tbsp
Salt
To taste
Coriander leaves finely chopped
1 tbsp
Mint Leaves finely Chopped
½ tsp
Marinating Process
Clean wash, dices of chicken and drain well. Pat dry with kitchen towel and keep in a bowl.
Add GGpaste, cashew Paste, Hung hurd, garam masala, turmeric powder and mustard oil. Mix well.
Then add thick cream KasooriMethipowder and all remaining ingredients. Mix well and cover with cling. Check seasonings.
Refrigerate for a minimum of 40mts.
Wash, rinse and drain the rice in a bowl full of cold water until the water is almost clear, about 5 times. Bring the rice, salt, cloves, cardamom pods, bay leaves, peppercorns and allow water to a boil in a large pot over high heat.. Add Rice and allow to cook
When the rice is half cooked strain through a colander and drain the water completely.
While doing this take out chicken and grill on a shallow griddle plate, with very little oil for basting, grill till cooked with out losing the Masala.
Transfer the rice and chicken layer by layer add browned onions, Sultanas and slivers of almonds.
Hermetically seal the vessel and the lid with wheat flour dough.
Serve the Biryani hot and anar raita
---
Recipes Credits
SuperChef Nandakumar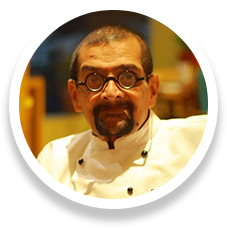 Chef Nandakumar Menon or 'Chef Nandu as he is known evolved into the Super Chef series. He was at the CASINO HOTEL in Kochi and later at the remarkable COCONUT LAGOON in Kumarakom. Both iconic Hotels and restaurants of repute for the quality and consistency of food offered at their restaurants. Coconut Lagoon where Chef Nandu headed the kitchen moulded him to cater to international clientele from all over the world coming in to experience the magic of the backwaters of Kerala and Kerala itself as a unique destination.
From his early Catering Technology days at Adayar, Chennai and training at the famed TAJ MAHAL INTERCONTINENTAL HOTEL, Mumbai, Chef Nandu was back again at the Welcome Group's ADAYAR PARK INN, Chennai.
Later he headed the setting up of the various F&B outlets of the ABAD PLAZA group, Kochi as its Corporate Chef.
And then with the Quilon Beach hotels, Chef Nandu created a redefined art of culinary expertise. His clientele were Doctors, Cashew businessmen and of course celebrities from the tinsel world, the cloyed connoisseurs had a different feel with his nouvelle cuisine.
He still loves to cook and share his valuable experience of the world of food with The Daily Brunch and its readers in our series on SUPER CHEFS.
Cheers!