All these days we were savoring Biryanis made of chicken and Mutton in an authentic manner. Today I take you down through the coastal areas of Konkan which stretches from Malabar coastal zone through Mangalore, Ratnagiri , Goa and the Maharashtrian belt.
The cuisine of this region is popularly with Coconut, rice and fish that assumes prime significance being a Sea Zone area. And so the cuisine takes a totally different Level,
The infusion of coconut milk and the biryani masala gives a distinct flavor of the mild spices, the tangy sharpness and the mouth feellingers in. Being dum cooked in Layers, the Biryani Vessel when opened gives a distinctive aromatic flavor. Yes, you are in for a different zone.
This particular Biryani is prepared with a special variety of rice known to be as KYMA RICE or ZEERAGA SAMPA RICE [in Tamil ] having a predominant flavor & as big as a cumin seed hence the name.
Whoof …… Yes its worth giving a try.!!!
Ingredients for Preparing Fish
| | |
| --- | --- |
| Boneless Fish | 1kg |
| Coconut Milk 1st | 150 ml |
| Coconut milk 2nd | 200 ml |
| Onion sliced | 2 nos. |
| Ginger Julienne | 2 tbsp |
| Green Chilly slit half | 2 nos. |
| Tomato cut into roundels | 1nos. |
| Fenugreek seeds | 1 tsp |
| Curry Leaves | 1 sprig |
| Coconut oil | 2 tbsp |
| Fish stock | 250 ml |
Method
Heat oil in a thick bottom pan, add fenugreek seeds when its slightly getting browned, add sliced onions, green chilly, ginger julienne, curry leaves and continue sautéing, till the onions are translucent.
Place cleaned and washed fish dices in the pan, lower fire, add fish stock and second coconut milk, allow the fish to cook on a low fire, add lemon juice, once the fish is cooked add tomatoes and 120ml of thick coconut milk. Pour one tbsp of coconut oil, close the dish and keep separate
Biryani Masala Making and Rice – Ingredients
| | |
| --- | --- |
| Onions sliced | 4 nos. |
| Curd | 3 tbsp |
| Green Chilly Slit | 2 nos. |
| Tomato roundels | 2 nos. |
| Daniya leaves chopped | 1 bunch |
| Mint Leaves | ¼ bunch |
| Spices whole | 1 tbsp |
| Refined Oil | 3 tbsp |
| Rice Kyma | 750 gms |
Method
Heat oil in a flat bottom vessel, add spices whole, then add the onions, sauté well with green chill added, once the onions are cooked add Curd and stir well.
Then add tomatoes and cook further for 5mts. Add Daniya leaves, Mint leaves and sauté.
Add Rice and allow to sauté further. If more oil is required you may add so. Continue sautéing for few minutes more.
Add hot water to the Vessel, checking the level of water just above the rice.
Allow the rice to get ¾ cooked till the water has evaporated.
Take another degchi and layer the bottom layer with Rice spread evenly, then transfer little amount of fish masala, continue the process till it gets over. Seal it with a little atta dough and cover with a lid.
Cook for 15-20mts. Keep aside.
Serve hot with Bhindi Raita and Peach honey Chutney
Pineapple Honey Chutney
Chop Pineapple after removing the core, one tsp of coriander chopped,
A pinch of Black salt, 1 tsp of chat masala, ½ chopped green
chilly, 1 tsp of chilly oil, 60ml of freshly squeezed orange juice and 1tsp of
Honey, mix in a blender and serve in a chutney bowl.
---
Recipes Credits
SuperChef Nandakumar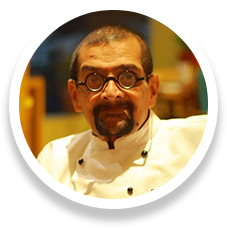 Chef Nandakumar Menon or 'Chef Nandu as he is known evolved into the Super Chef series. He was at the CASINO HOTEL in Kochi and later at the remarkable COCONUT LAGOON in Kumarakom. Both iconic Hotels and restaurants of repute for the quality and consistency of food offered at their restaurants. Coconut Lagoon where Chef Nandu headed the kitchen moulded him to cater to international clientele from all over the world coming in to experience the magic of the backwaters of Kerala and Kerala itself as a unique destination.
From his early Catering Technology days at Adayar, Chennai and training at the famed TAJ MAHAL INTERCONTINENTAL HOTEL, Mumbai, Chef Nandu was back again at the Welcome Group's ADAYAR PARK INN, Chennai.
Later he headed the setting up of the various F&B outlets of the ABAD PLAZA group, Kochi as its Corporate Chef.
And then with the Quilon Beach hotels, Chef Nandu created a redefined art of culinary expertise. His clientele were Doctors, Cashew businessmen and of course celebrities from the tinsel world, the cloyed connoisseurs had a different feel with his nouvelle cuisine.
He still loves to cook and share his valuable experience of the world of food with The Daily Brunch and its readers in our series on SUPER CHEFS.
Cheers!
See more from SuperChef Nandakumar