Ingredients 
| | |
| --- | --- |
| Large Jumbo Prawns  and deveined | 4nos |
| Salted butter | 30gms |
| Onion  finely chopped med. | 2no. |
| GG paste | 1tbsp |
| White wine | 120ml |
| Canned  Mushrooms chopped | 2 tbsp |
| Flour | 1tsp |
| Sea food Stock | 300ml |
| Double cream | 150 ml |
| Dijon Mustard | 1tsp |
| Fresh  Parsley | 1tsp |
| Lemon Juice | 1tsp |
| Grated Parmesan  cheese | 2tbsp |
| Egg yolks, beaten | 1No. |
| Cayenne pepper | A pinch |
| Salt and Pepper | To taste |
Method
1. Clean prawns, cut the prawn vertically into two halves, de vein, Rinse in cold water and wash again thoroughly. and pat dry.
2. Remove the meat from the shell dice the meat and keep separate.
3. Allow the shell to boil in water, when it is orange-red, remove and allow to drain the water from the shell.
4. Heat butter in a pan, when its frothy remove from fire, add GG paste, chopped onions, add flour, diced prawn meat, sauté for 3 minutes, then mushrooms .add seafood stock little by little, blending all the time to avoid lump formations.
5. Pour the wine, check seasonings, add cream and egg yolk and mustard. Pour the lemon juice, Mix well. Add remaining stock, bring back to fire and simmer for 3mts.
6. Spoon the Thermidor mix over the shells and sprinkle the cayenne pepper over the top. Add grated cheese on top. Grill in an oven for minutes till browned.
7. Serve in a platter with asparagus tips and Garlic & Orange sauce.
---
Recipes Credits
SuperChef Nandakumar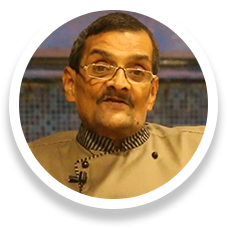 Chef Nandakumar Menon or 'Chef Nandu as he is known evolved into the Super Chef series.he was at the CASINO HOTEL in Kochi and later at the remarkable COCONUT LAGOON in Kumarakom. Both iconic Hotels and restaurants of repute for the quality and consistency of food offered at their restaurants. Coconut Lagoon where Chef Nandu headed the kitchen moulded him to cater to international clientele from all over the world coming in to experience the magic of the backwaters of Kerala and Kerala itself as a unique destination.
From his early Catering Technology days at Adayar, Chennai and training at the famed TAJ MAHAL INTERCONTINENTAL HOTEL, Mumbai, Chef Nandu was back again at the Welcome Group's ADAYAR PARK INN, Chennai.
Later he headed the setting up of the various F&B outlets of the ABAD PLAZA group, Kochi as its Corporate Chef.
And then with the Quilon Beach hotels, Chef Nandu created a redefined art of culinary expertise. His clientele were Doctors, Cashew businessmen and of course celebrities from the tinsel world, the cloyed connoisseurs had a different feel with his nouvelle cuisine.
He still loves to cook and share his valuable experience of the world of food with The Daily Brunch and its readers in our series on SUPER CHEFS.
Cheers!