Planning a romantic candle light dinner night needn't be all that taxing. When it comes to candle light dinner recipe ideas, we've got you covered. Our chef crafted candle light dinner menu — Stuffed Mushrooms, Garlic Honey Chilly Prawns, and Clafoutis Mango — comes from the treasure trove of the culinary genius, SuperChef Nandu, and as is certainly foolproof. These fancy looking dishes will drive those hunger pangs away and will surely leave your taste buds tantalized but, at the same time, will still save enough room in your tummy making you feel light and energetic. The candle light meal recipes consist of two appetizers (veg and non-veg) and a fruit-based dessert.
An Horsdoeuvre , is an appetizer or a starter , that is a dish served before a main meal. It can be served hot or cold preferably during dinner time not compulsorily. Canapé is a cold or hot starter. Usually Horsdoeuvre is served with a sharp dip, thatallows the taste buds to tickle the palates.
The Table d`hote Menu
The fixed menu with a pricing in totto and the menu will have set of dishes or rather the customer`s Choice is limited .
Lets have a look at a Table d`hote Menu
Stuffed Mushrooms
Med.sized fresh Button Mushrooms: 12 nos
Parmesan cheese: 100 gms
Fresh parsley finely chopped: 1Tbsp
GG finely chopped: 1 Tbsp
Rosemary: A pinch
Mushroom Stem. finely chopped: 12Nos
Onionfinely chopped: 1no.
Celery stalk & Heart: 1no. finely chopped
Capsicumfinely chopped: ½Wedge
Spinachfinely Shredded: A few leaves
Salt & Pepper: To Taste
Oil for sautéing: 60 ml
Cream cheese: 2tbsp
Method
Wash Button Mushrooms with refined flour well in a small pan and then wash in running cold water, drain water, place on a kitchen napkin to dry.
Remove the stem from the Mushrooms, chop the stem finely, keep aside.Chop all vegetables, keep aside.
Heat oil in a pan , sauté GG till the raw smell ceases, add chopped vegetables and shredded spinach and cook.
Add rosemary, a few drops of Worcestershire sauce , ½ tsp Plum sauce, 2 tbsp fine white bread crumbs, grated cheese and blend well.
Remove from fire and allow to cool. Then take Mushroom Caps making sure its not at all moist.
With a teaspoon take the vegetable mix and fill in the Mushroom caps, care should be given in not breaking the sides of mushrooms.
Place a heap of cream cheese or grated cheese on top of Filled Mushroom and keep the same in a preheated Oven and bake
till the cheese is browned.
Note : To get the best result, plz. Use canned Button Mushrooms in Brine.
Garlic Honey Chilly Prawns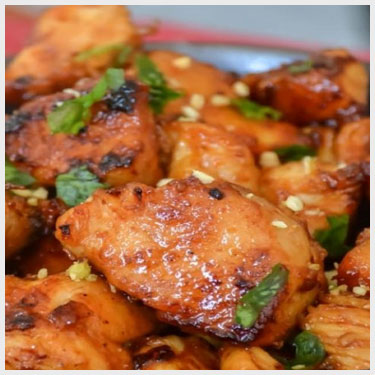 Ingredients
Prawns peeled and deveined: 1 kg
Soy sauce: 1tsp
White wine or Sherry: 2 tbsp
Cornflour: 2 tbsp
vegetable oil: For frying
Ginger Peeled and fine Chopped: 1tbsp
2 garlic chopped: 1tbsp
GG paste: 1tsp
Onions Fine Chopped: 2tbsp
Celery heart and stalk chopped: 1tbsp
Honey: 1Tbsp
Red chilly Paste: 1tsp
Sesame seeds: 1tsp
Chinese rice: 4 pax
Method
Combine prawns, soy sauce, white wine and corn flour. GG paste .Marinate and cover with a Cling film, refrigerate for 1hour.
Place a wok add 2 tbsp. of oil and sauté chopped GG
Onions ,celeryand red chilly paste. Remove from fire and keep aside
Take out the Prawns from refrigerator and dust with corn flour. Keep oil in a wok and when hot, fry the prawns.
Transfer the golden fried prawns to the sautéed ingredients and add all other ingredients, like sauces, tomato spoon a tbsp and garlic sliced, moisten with little water or seafood stock. Toss, sprinkle sesame seeds
Serve hot , sprinkle finely chopped Spring Onion and Chinese rice.
Clafoutis mix is like making waffles! The recipe reverberates with me because it is resourceful and, the end product, elegant and yummy too.. You can use individual ramekins, a tart mold, or any nonstick egg pans for baking.
The Pancake mixwill fall and subside, but not to worry.We hv an advantage always , almost any fruit can be used to make as a filling ..except citrus ones
Ingredients
Butter: 10gms
Sliced mangoes Canned [Pref]: 400gms
Slivered almonds: 50g
Plain flour: 2 tbs
Vanilla Essence: ½ tsp
Sugar: 100gms
Egg yolks: 2 nos
Egg white: 2nos
Heavy cream: 200ml
Method
Heat the oven to 190C just before the dish is made.
Butter a 9 inch Baking dish and gently place the mangoes over the base. Keep aside
Keep the remaining slices to Place on top of the batter.
Whisk together flour, sugar ,Vanilla essence egg yolk and cream in a bowl until smooth and fluffy. Fold in whipped egg whites after thoroughly whisking.
Pour this over the fruits and bake for 25 minutes until it rises to golden brown.Check the mix with a tooth pick so as to know this for perfect cooking.
The end product will be a bit over creamy and not too dry. Serve warm with toasted almonds strawberry slices on top and some powdered Castor sugar
---
Recipes Credits
SuperChef Nandakumar