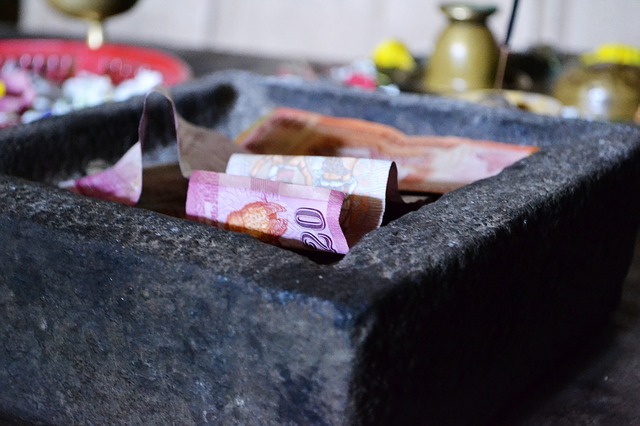 Charity CAN Change your Life!
"Happiness is a byproduct of an effort to make someone else happy".

Gretta Brooker Palmer
An enlightened Zen master was asked by one of his disciples;
"Master how did you feel in the moment you got enlightened."
"I felt I was a fool", Master replied after a short silence.
"Why…?" the disciple raised his eyebrows in surprise and asked.
"Because it was like undertaking a herculean task to get into a house by bringing a heavy wrought iron ladder, climbing to the top and breaking a window and later finding that the door of the house was open."
This popular Zen story points to the senselessness of the humans struggling for happiness and joy. Many spend long years searching for them by numerous means. They struggle to earn money, wealth and power, search for pleasure and luxury, try to achieve fame and status but fail to find happiness and end up in frustration and a feeling of emptiness. Finally, they realize that happiness is not elsewhere but within themselves, in the cockles of their hearts. It should come from within, not from anywhere or from anything else. The wise advice of the great spiritual leader Dalai Lama is aptly relevant in this matter;
"If you want to be happy, practice compassion,
 If you want to be more happy practice more compassion"
Many great men with immense wealth realize this wonderful fact and turn to charity in a big way. You might have heard of the amazing story of an Australian businessman, Karl Rabeder who donated his entire fortune of over four million U.S. dollars. He founded a non-profit organization, 'My Micro Credit' pledged to alleviate poverty. He sold his 321 Sq meters luxury house and moved to a mere 19 Sq.meters wooden cabin to start a very simple and pious life.
Rabeder, later confessed; "For a long time, I believed more wealth automatically brings more happiness. But I started to feel like a slave working for things I don't actually want or need. Lately, I began to hear an inner voice telling me to stop what I was doing and begin my true life journey. Rabeder says that he now finds the luxury of real happiness in his new simple life of charity and compassion.
 Examples from History
History is full of examples of benevolent giving. Albert Einstein once said; 'Only a life lived for others is a life worthwhile': Mother Theresa devoted her entire life to charity which was a means for her love of God. She became an inspiration for the entire world for helping others. She said; 'When I nurse a leprosy patient, I have the experience of God'.
Jacquelyn Kennedy, who was once the first lady of the USA, became a cancer patient in her last phase of life and she was in great agony and distress. She got relief from her depression by getting fully immersed herself in charitable service.
Princess Diana, after her separation from Prince Charles, was under extreme mental turmoil and depression. It is well known that she got relief from her mental blues by actively participating in voluntary services.
Charity of world's greatest wealth creators
Many of the world's wealthiest personalities have realized the great power of charity and giving. Microsoft founder and the world's richest man, Bill Gates donated a major chunk of his wealth to charity. Gates and his wife Melinda manages Gates & Melinda Foundation, which works for reducing poverty and improving health care in this world. According to the 'Chronicle of Philanthropy' Gates has contributed $18 billion or 22% of his fortune. In 2017 alone he donated 4.6 billion dollars in the form of Micro Soft stocks.
Warren Buffet, world's greatest investor, donated an astounding sum of 31 billion dollars to charity organizations, including the Bill and Melinda Foundation. He has already contributed about 71% of his total fortune since 2000, according to the Chronicle of Philanthropy. Facebook co-founder, Mark Zuckerberg and his wife donated about 2 billion pounds to their own charitable organization, 'Chan Zuckerberg Foundation'.
Nowadays, many billionaires are handing over their huge fortunes mainly to charity and not to their families.
Generous Indian crorepatis
In India also, a good member of wealthy, corporate giants, have come forward with their noble and kind hearts to passionately donate huge amounts to charity. Azim Premji (70), chairman of Wipro is the most generous Indian of the year 2017. This is the 3rd time he holds the coveted title. His donation to charity was an astounding sum of Rs. 27.514 Crores!
The present Infosys Chairman and the famous technocrat, Nandan Nilekani and his wife Rohini Nilekani donated Rs. 2.404 Crores, the second largest amount. Infosys founder chairman and CEO, N. R. Narayana Moorthy holds the third position in the list with the donations amounting to Rs. 1.322 Crore, as per report. According to Moorthy, 'the real power of money is the power to give it away'.
All these billionaires realize the power and value of giving. They remind us of the wise words of the Nobel Peace Prize recipient Muhammad Yunus; 'Making money is happiness; making other people happy is super happiness'
The Real Power of Charity: Scientific Findings
Several Scientific studies reveal that people who give money to charity tend to be happier and healthier than others. One study by British Columbia University Psychology professor, Dr.Elizebeth Dunn, and Ph.D. Student Ashley Williams, found that those who donate money for charitable activities become happier and healthier than others who are not involved in giving. The researchers measured people's BP before and after giving generous donations and found that BP fell when they donated significantly to others, but did not change when they spent money on themselves.
In another experiment, a group of people was given money, and half of them were asked to spend it on themselves while the other half was directed to spend it on other people. The group who spent the money on others consistently became happier and cheerful than the other group.
These research findings scientifically support the view expressed a century ago by the famous American industrialist and great philanthropist Andrew Carnegie; 'Wealth is not to feed our egos but to feed the hungry and help people help themselves.'
Prof. Carolyn Schwartz at the University of Massachusetts Medical School, who studied 2000 people across the nation found that those who helped others were specifically happier and less depressed as compared to the other category who did not care to help others.
Charity Stimulates the Pleasure Centers of the Brain
It has been found through fMRI scan that donating to charity activates the same parts of the brain that are stimulated by food and sex. So it is evident from experiments that altruism is hardwired in the brain and it's pleasurable.
Dr. Paul Wink, professor of psychology at Wellesley College and Dr. Michele Dillon, professor of Sociology at the University of New Hampshire found in their combined psychological research that those who volunteered and engaged in any form of giving for charity in their adolescent period were much less likely to become depressed or unhappy even as they got older. This finding is in line with what Albert Pine, the famous American author and biographer pointed out many years ago; 'What we do for ourselves dies with us; what we do for others and the world remains and are immortal'.
The Spiritual Dimension of Charity
Leo Tolstoy once said; 'The sole meaning of life is to serve humanity'. All religions in the world preach and teach the need for charity and proclaim its virtue. The greatest thinkers of all times have suggested that true happiness can be experienced by helping others. Mahatma Gandhi advised; 'To find yourself, lose yourself in the service of others'. Scientific studies have shown that the act of charity can lift up self-esteem and bring about happiness. The act of giving without expecting anything in return maximizes your joy and mental glow. Charity nurtures and nourishes your body, mind, and soul. As the famous U.S. writer, Arianna Huffington says; 'Essentially giving is a miracle drug with no side effects on health and wellbeing.'
Charity has got magical powers to rejuvenate and transform your life. Charity really expands your consciousness and helps to connect with the cosmic power. It is a stepping stone to heaven. It's an easy way to enlightenment, the ultimate blissful joy. According to the Holy Bible; 'Whoever is generous to the poor lends to the Lord, and He will repay him for his deed.'
Summing up
The power of giving is really amazing and awakening. Its magical powers can transform and reorient your life. It's a genuine fact that the giver naturally gets happier and more joyful than the receiver. The giver reaps abundant benefits in physical, mental and spiritual levels.
Charity heals the mind and cools the heart. Believe that it's a sure path to peace, health, and abundant happiness. John D Rockefeller Jr., one of the greatest philanthropists advised; 'Think of giving not as a duty but as a privilege'. Let us not forget the famous words of Saint Francis of Assisi; 'For it is in giving that we receive'.
ABOUT THE AUTHOR
Dr. JOHN MUZHUTHETTU is a Human Resource Consultant, National Trainer, and Counselor. Formerly he was the Deputy Chief Engineer, Kerala State Electricity Board and is still working as an external faculty of HRD Programmes of KSEB. He is also a faculty of Department of Management Studies, Mar Augusthinose College, Ramapuram, under M.G.University, Kerala. He is the PG course co-ordinator of MHRM.
He is a columnist in several Magazines, like 'Business Deepika', 'Creative Business', 'Donbosco' etc. His articles have been published in many magazines and journals. His several speeches have been aired by All India Radio. His interviews on various subjects have been telecasted by Power Vision TV. He is the author of five best-selling books:
'Stress-Manassasthra- Aathmeeya Pariharangel'. (Current Books, Thrissur) 4th Edition
Vijayiyude Vyakthithwam (Current Books, Thrissur)
Jeevitham Santhushtamakan, Nithya Yauvanam Nedan.(css,Thiruvalla)2ndEdition
Emotional Intelligence-Jeevithavijayathinu (CSS, Thiruvalla)
Vijayarahsyangal (Current Books, Thrissur)
As a trainer, he has conducted more than a thousand  seminars and workshops for teachers, parents, students, executives and others, on several subjects like Stress Management, Time Management, Personality Development, Emotional Intelligence and Spiritual intelligence for Excellence, Communicative Skills, Assertiveness, Motivation, Study Skills, Effective Parenting, Counselling Skills etc. He is an external training faculty of Power Engineers Training and Research Centre of KSEB. He is an external faculty of IMG Cochin. He is also the Secretary of Upasana Cultural Centre, Thodupuzha.
Read More from Dr. John Muzhuthettu:
Impression Management: The Art and Science of Success
THE AMAZING SCIENCE OF PHEROMONES
FAILURES: THE HIDDEN SEEDS OF SUCCESS
THE AMAZING PSYCHOLOGY OF LUCK
SMARTPHONE ADDICTION- A SERIOUS MODERN MALADY
MEDITATION FOR BOOSTING YOUR BRAIN AND HEALING YOUR MIND: TIPS AND TECHNIQUES
20 SUPER TIPS FOR A GOOD NIGHT'S SLEEP
Image Credits: www.pixabay.com