The decision rested in the palm of my hand like a leaden paperweight. Fostering a one-and-a-half-year-old Aussie mix named Benny, labeled as a potential biter, seemed like a terrible idea. I had two older children to consider. Yet the circumstances for Benny's quick return to the shelter could have qualified his former adopter for a Darwin award. Apparently within hours of bringing the disoriented pup home, "Darwin" had decided to show his pet who was boss. Benny was still figuring out his surroundings when his new owner gave him a bone, growled in his face, and snatched Benny's prize away. If that wasn't bad enough, the man then bit him on his muzzle. Yes, the human bit the dog! Confused, Benny had air-snapped at the man's face, prompting "Darwin" to dump him back at the shelter. Because of this unfortunate event, Benny would only be released to a rescue organization. This beautiful white dog with a red head and distinctive lightning bolt traveling down his snout had gotten a bum rap. I was Benny's last hope.
Staring at Benny's sad, brown eyes on that May afternoon in 2004, I knew what I had to do. The heavy paperweight slipped through my fingers and landed in my pocket. Benny was coming home with me.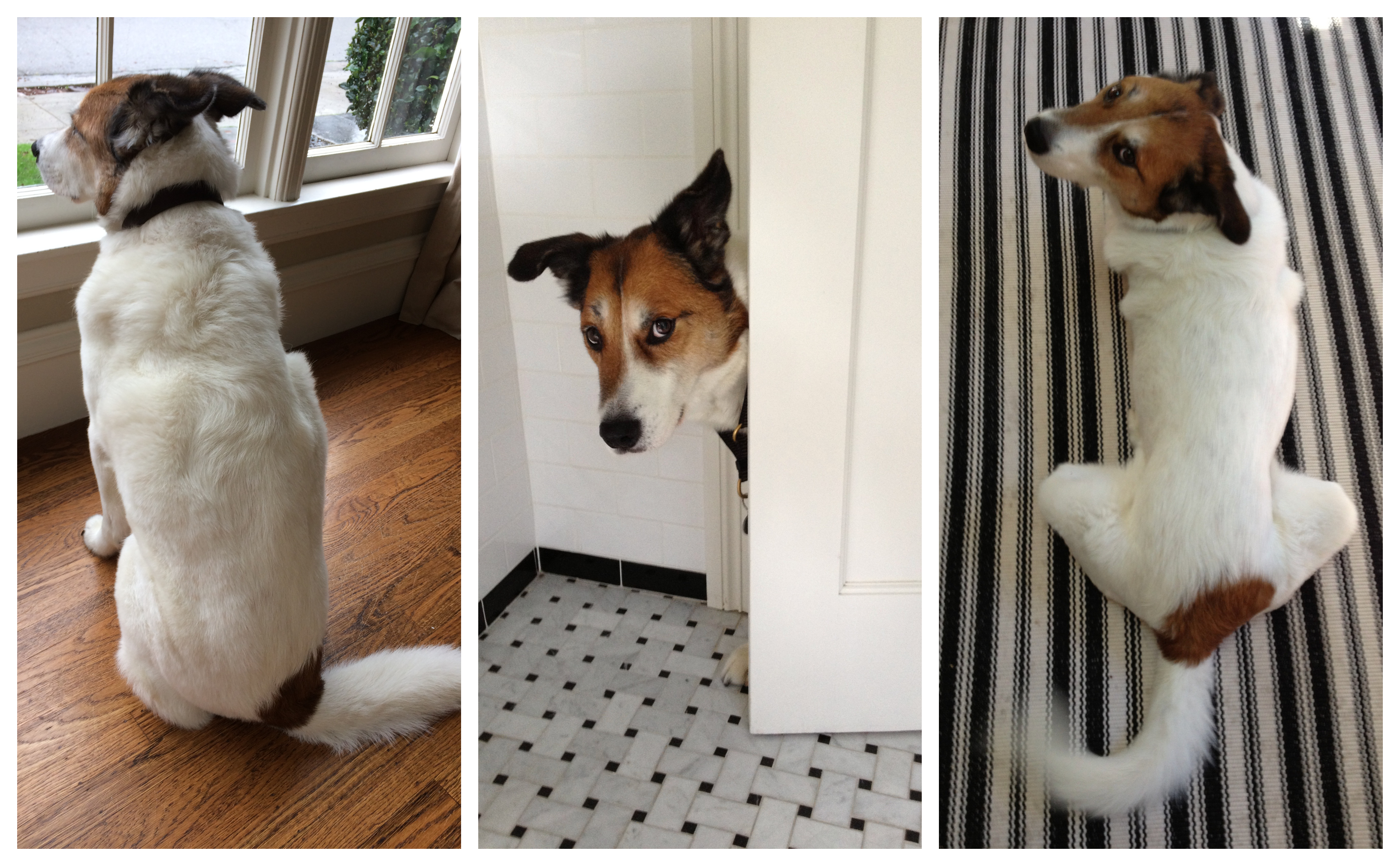 In the days that followed, I watched my new charge for behavioral problems. All I saw was an eager-to-please dog. A month later when I received Mary and Sam's adoption application stating the couple hoped for a companion to walk and snuggle with, I knew Benny had found his forever home. A Christmas card that arrived in the mail later that year showing a happy dog confirmed that I had made the right decision. Little did I know that Benny had launched his humans into an annual tradition that would last over a decade — every holiday season Mary and Sam have sent me a photo and update on Benny.
In last December's photo, Benny's 16-year-old red muzzle was no longer peppered with gray fur. Instead, his snout appeared coated in fresh snow. His long life is a testament to how well-loved he has been. The paperweight has long since left my pocket. It now anchors fifteen pictures of a special dog. My fingers are crossed that photograph number sixteen will arrive in a few short months.
Jill Hedgecock writes a monthly dog rescue column called Ruby DooBy Doo to the Rescue for The Diablo Gazette and is the author of Between Shadow's Eyes, a novel that features a Doberman Pinscher.
---
About Author
Award-winning and internationally-published author Jill Hedgecock is dedicated to taking readers on high-stakes adventures. Her short stories, personal essays, and nonfiction have appeared in multiple anthologies and magazines. Rhino in the Room is her debut novel. She lives in California with her husband and three adorable dogs.
Image Credits: Diane Walsh
Reprinted with the permission of The Diablo Gazette www.thediablogazette.com