Hyderabadi Chicken Biriyani
Biriyani has been a slaking hunger for centuries, and you will never be cloyed by this traditional and conservative cuisine. As the hilarious statement sounds  like a movie name  its "From Persia to your Plate"
The Persian Travellers and merchants brought this scrumptious dish during their visit to India for trading purposes. Biryani was further developed in the Mughal kitchen as the Bawarchis [cooks] were fortunate enough to learn the recipes. This was done by trial and error methods, till the time they were perfect in producing the particular Extra fine cuisine.
The basics of Biryani Making depends on the rice one chooses and then the Patience. Of course, other ingredients such as masalas, spices and tender meat plays a major role too.
And so dear connoisseurs, we from The Daily Brunch offer you a motley of Biriyanis. Named as  Biriyani Festival crafted by Our Super Chef Nandu
Why Should We Use  Basmathi Rice For Biriyanis
Basmati rice is gluten-free and low in fat content. Basmati has the property of amino acids, low sodium and cholesterol-free. It has med. Glycemic index, hence energy is released at a slower pace, steadier and so more balanced level of energy. Use only long-grained basmati rice for the reasons stated above. Basmati rice is full-bodied aromatic and the flavour lingers.
Ingredients
Skinless Chicken
1.250 gms
Large  onions, thinly sliced
 2 Nos.
Kashmiri chili powder
2 tsp
Turmeric Powder
1tsp
Hung Curd
1cup
Vegetable oil for frying
 tbsp
Ghee
2tsp
Long Grained basmati rice
600 gms

Whole Spices

Green cardamom pods
5
Cinnamon sticks
1
Cloves
6nos
Bay leaves
1no.
Whole black peppercorns
1tsp
Shahjeera
1tsp
Javithri
3 nos
Fennel
1 tsp
Mace
4 nos
Saffron
1pinch
1 teaspoon cumin seeds
1 tsp
Finely chopped Ginger
1 tbs
Garlic, finely grated
1 tbs
Tomatoes, chopped roughly
 2nos
Daniya  leaves
4tbsp
Mint leaves
4tbsp
Method
Mix together yogurt, salt, chilli powder and turmeric in a large bowl. Add the chicken and turn to coat. Let sit at room temperature until ready to use, up to 1 hour.
Meanwhile, heat the oil in a large heavy-bottomed saucepan over high heat and Fry half of the onions, stirring frequently for even cooking, until deep golden brown,. Transfer them to a paper-towel to absorb excess oil. Season with salt and let the onions be crispy.
Wash, rinse and drain the rice in a bowl full of cold water until the water is almost clear, about 5 times. Bring the rice,  salt,  cloves, cardamom pods, bay leaves,  peppercorns and slit green chilly,  allow water to a boil in a large pot over high heat. Add  Rice and allow to cook
When the rice is half cooked strain through a colander and drain the water completely.
Heat oil in a thick bottom vessel add  whole  spices,  marinated chicken, add ground daniya Leaves, Mint Leaves, tomatoes and  Curd. When the chicken is half cooked , spread the chicken evenly at the bottom and add rice on top and spread evenly
Add fried onions, fried cashew and sultanas. Add remaining chopped daniya and mint leaves, On top of the rice.
Knead wheat flour with little water to a tight dough and spread the same on the vessel and press the lid on top to hermetically seal it. Add glowing charcoal to top and then spread them to the sides of the bottom and cook for 5 mts. This hermetically sealed cooking is known as  DUM  COOKING.
Serve the Biriyani hot with Mirchi Ka salan  and dates pickle
---
Recipes Credits
SuperChef Nandakumar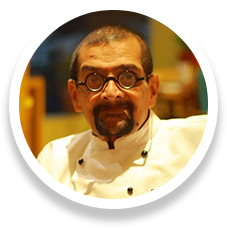 Chef Nandakumar Menon or 'Chef Nandu as he is known evolved into the Super Chef series. He was at the CASINO HOTEL in Kochi and later at the remarkable COCONUT LAGOON in Kumarakom. Both iconic Hotels and restaurants of repute for the quality and consistency of food offered at their restaurants. Coconut Lagoon where Chef Nandu headed the kitchen moulded him to cater to international clientele from all over the world coming in to experience the magic of the backwaters of Kerala and Kerala itself as a unique destination.
From his early Catering Technology days at Adayar, Chennai and training at the famed TAJ MAHAL INTERCONTINENTAL HOTEL, Mumbai, Chef Nandu was back again at the Welcome Group's ADAYAR PARK INN, Chennai.
Later he headed the setting up of the various F&B outlets of the ABAD PLAZA group, Kochi as its Corporate Chef.
And then with the Quilon Beach hotels, Chef Nandu created a redefined art of culinary expertise. His clientele were Doctors, Cashew businessmen and of course celebrities from the tinsel world, the cloyed connoisseurs had a different feel with his nouvelle cuisine.
He still loves to cook and share his valuable experience of the world of food with The Daily Brunch and its readers in our series on SUPER CHEFS.
Cheers!