Clafoutis mix is like making waffles! The recipe reverberates with me because it is resourceful and, the end product, elegant and yummy too.. You can use individual ramekins, a tart mold, or any nonstick egg pans for baking.
The Pancake mixwill fall and subside, but not to worry. We have an advantage always, almost any fruit can be used to make as a filling.. except citrus ones
Ingredients
Butter: 10gms
Sliced mangoes Canned [Pref]: 400gms
Slivered almonds: 50g
Plain flour: 2 tbs
Vanilla Essence: ½ tsp
Sugar: 100gms
Egg yolks: 2 nos
Egg white: 2nos
Heavy cream: 200ml
Method
Heat the oven to 190C just before the dish is made.
Butter a 9 inch Baking dish and gently place the mangoes over the base. Keep aside
Keep the remaining slices to Place on top of the batter.
Whisk together flour, sugar, Vanilla essence egg yolk and cream in a bowl until smooth and fluffy. Fold in whipped egg whites after thoroughly whisking.
Pour this over the fruits and bake for 25 minutes until it rises to golden brown. Check the mix with a tooth pick so as to know this for perfect cooking.
The end product will be a bit over creamy and not too dry. Serve warm with toasted almonds strawberry slices on top and some powdered Castor sugar
---
Recipes Credits
SuperChef Nandakumar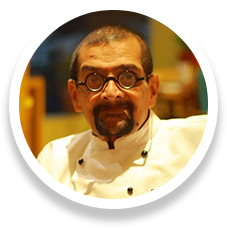 Chef Nandakumar Menon or 'Chef Nandu as he is known evolved into the Super Chef series. He was at the CASINO HOTEL in Kochi and later at the remarkable COCONUT LAGOON in Kumarakom. Both iconic Hotels and restaurants of repute for the quality and consistency of food offered at their restaurants. Coconut Lagoon where Chef Nandu headed the kitchen moulded him to cater to international clientele from all over the world coming in to experience the magic of the backwaters of Kerala and Kerala itself as a unique destination.
From his early Catering Technology days at Adayar, Chennai and training at the famed TAJ MAHAL INTERCONTINENTAL HOTEL, Mumbai, Chef Nandu was back again at the Welcome Group's ADAYAR PARK INN, Chennai.
Later he headed the setting up of the various F&B outlets of the ABAD PLAZA group, Kochi as its Corporate Chef.
And then with the Quilon Beach hotels, Chef Nandu created a redefined art of culinary expertise. His clientele were Doctors, Cashew businessmen and of course celebrities from the tinsel world, the cloyed connoisseurs had a different feel with his nouvelle cuisine.
He still loves to cook and share his valuable experience of the world of food with The Daily Brunch and its readers in our series on SUPER CHEFS.
Cheers!
See more from SuperChef Nandakumar