The Daily Brunch is in the business of creating and curating inspirational, thought-provoking stories and articles. TDB is your online space, your happy place and speaks to you at many levels — as a friend, philosopher, and guide. At TDB we don't care about what's trending! We care about what's important and to us and that is You. TDB is the one place that brings all your aspirations together. Be it your thirst for travel, love for luxury or simply, for that daily dose of inspirational stories — TDB is your go-to place.
The Daily Brunch is a voice that resonates with inspiration, brings insight, positivity and catalyzes change. The multitasking website with its sharp and crisp columns envelopes everything from travel, lifestyle, fitness, musings, parenting tips, health, career and beauty coupled with platforms for entrepreneurs to launch themselves. The Daily brunch is all about "you", "your story", "your experience" which is shared on a global platform with the intent of connecting people who embrace the same thought. It is a colossal intersection of inspiration and lifestyle which undoubtedly makes it an unparalleled platform. So join in on the conversation and prepared to be inspired!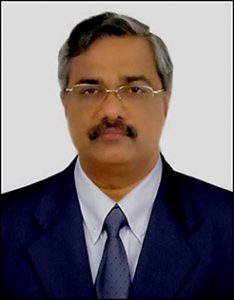 ALEX MATHEWS
FOUNDER
Alex Mathews is one of India's greatest independent financial experts with over two decades of experience and was the Head of the Research wing of Geojit BNP Paribas. He is a renowned author as well as a media personality. He is the most sought-after financial expert in India with his brilliant insights, accurate predictions, and sharp intellectual acumen. He is one of the pioneers of Derivatives Research in India and has been fundamental to the cause of financial research and education in India. He won the ZEE BUSINESS AWARD for the BEST FINANCIAL ANALYST for 2013 "DERIVATIVES" and is one of the most cited financial experts in the country. He has been an Empanelled Analyst for various international news agencies like Reuters, Bloomberg, Dow Jones as well as other visual and print media. He has authored four books for Tata McGraw Hill Publications amongst numerous others.
---

ANJU ANNA ALEX FRSA
CO-FOUNDER & EDITOR-IN-CHIEF
Anju Anna Alex is into all things media- from Corporate Communication to Development Communication to Social Media and everything in between! The Daily Brunch is the embodiment of her vision and the manifestation of years of hard work and resilience. She is a media zealot, an occasional Grammar Nazi (now who came up with that huh?) and a very compassionate human-being, all rolled into one. After her various editorial stints with various media outlets that chased trending and sensational news, she thought that it would be worthwhile to start a website that would connect to its readers at a very personal level by sharing stories that are meaningful. She holds two Post Graduate degrees in Media and Communication including one from the prestigious London School of Economics and Political Science, UK (2012). She has interned with Polis, UK which is the think-tank of LSE and has participated in the World Forum for Social Entrepreneurs at the University of Oxford in 2012. She was one of the student organizers of the World Journalism Forum under the aegis of the London School of Economics in 2012.
WHAT MAKES THE DAILY BRUNCH DIFFERENT?
What makes TDB truly unique are our writers and our vision. The TDBians are not an angry bunch of news mongering presstitutes or writers who shamelessly churn out regurgitated news. The TDBians are community leaders from around the world or highly qualified researchers, most of them with a Doctoral degree to their credit in their area of specialization or well-seasoned content writers, who do so purely for the joy of it. The TDBians are handpicked from some of the leading educational institutions from India, including the IITs, the IIMs as well as other leading Universities from across the globe. TDB is an Indian website but TDB's appeal and reach is truly international. TDB was launched on July 2nd, 2016.
TDB is a growing, thriving, global community of hundreds of writers and community leaders who envision a better society. Our vision is to connect with parents and children alike, to create a generation of confident and happy individuals. We believe that the biggest of wars are waged or the most brutal crimes are committed because of some individual's very personal, low self-esteem issue or feeling of inferiority or more so because somebody felt neglected or insulted at some point of time in their lives. We envision and strive to create a more compassionate world. We want to use this technological platform to connect human beings with their more humane self. We are old souls who pine the loss of the essence of human relationships with the intervention of technology in every aspect of our day to day lives. We love Oprah Winfrey, enjoy good conversations, rainy days and freshly brewed coffee.